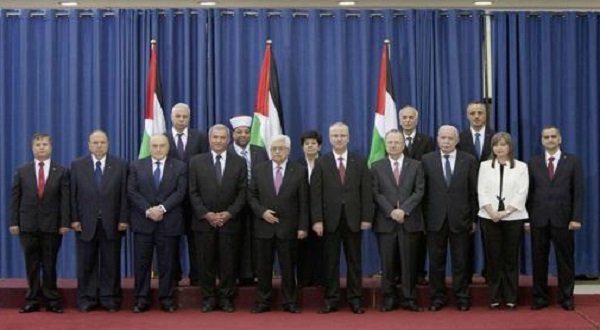 RAMALLAH — Palestinian President Mahmoud Abbas swore in a unity government on Monday, taking a major step toward ending a crippling territorial and political split with the rival Hamas militant group but also setting the stage for new friction with Israel.
The brief ceremony at Abbas' West Bank headquarters was preceded by last-minute haggling over the makeup of the 17-member Cabinet of technocrats, signaling continued tensions between the long-time rivals.
The Islamic militant Hamas, which seized the Gaza Strip from Abbas' Fatah in 2007, had demanded that he reverse a decision to remove the position of minister of prisoner affairs from the government. Hamas officials announced just minutes before the start of the swearing-in ceremony that the dispute had been resolved, though the nature of the compromise was not immediately clear.
The formation of a unity government is the most significant step yet toward ending a political split that has weakened the Palestinian case for a state in the West Bank, Gaza and east Jerusalem, lands Israel captured in 1967.
After the 2007 takeover of Gaza, Hamas set up its own government there, leaving Abbas with only the autonomous areas of the West Bank. Abbas considered the loss of Gaza as a stain on his presidency.
"Today, we declare the end of the split and regaining the unity of the homeland and the institutions," Abbas said in a recorded speech broadcast after the swearing-in ceremony on Palestine TV.
"This black page in our history has been closed forever and will never come back," Abbas added. Hamas expressed similar sentiments.
"We can say the division is behind us now," said Sami Abu Zuhri, a Hamas spokesman in Gaza, adding that the Palestinians "have major challenges ahead of us to erase the traces of division."
The new Cabinet is to be temporary and prepare for general elections in 2015, though there are signs that neither side is eager to seek such a vote soon.
Over the past seven years, repeated reconciliation attempts have failed, with neither side willing to make significant concessions, even though the split is unpopular among Palestinians. But both Palestinian factions now have incentives to repair ties.
Hamas is in the midst of a major financial crisis due to a border blockade imposed by Israel and Egypt, while Abbas is in need of a political accomplishment following the collapse of peace talks with Israel in late April.
The unity government faces a host of challenges, both internally and in its relations with the international community.
The US said it intends to work with the new Palestinian unity government, but will monitor its policies closely, the State Department said Monday. "At this point, it appears that President Abbas has formed an interim technocratic government that does not include ministers affiliated with Hamas," State Department spokesperson Jen Psaki said. "Based on what we know now, we intend to work with this government."
Israeli Prime Minister Benjamin Netanyahu has said his government would shun the new Palestinian Cabinet because it is backed by Hamas, considered a terror group by Israel and the West. Hamas has carried out scores of attacks that have killed hundreds of Israelis over the years.
Netanyahu urged the world community not to recognize the new Palestinian government as it includes Hamas and will "strengthen terrorism" and that "the international community must not embrace it."
US Secretary of State John Kerry spoke to Abbas by phone on Sunday to hear more.
Trying to reassure the West, Abbas has said repeatedly in recent days — and reiterated this on Monday — that the new government will follow his pragmatic program. Abbas needs continued foreign aid to keep any government afloat financially.
The United States and the European Union have said any Palestinian government must recognize Israel, renounce violence and adhere to previous agreements, conditions accepted by Abbas long ago but rejected by Hamas.
Shortly after Monday's ceremony, Abbas headed the first Cabinet meeting. The three new ministers from Gaza were absent because Israel had not issued them a travel permit. The West Bank and Gaza lie on opposite ends of Israel.
Abbas told the ministers that the new government is committed to the idea of a state in the pre-1967 borders.
The Cabinet is "committed to the recognition of Israel, renouncing violence and respecting international agreements," he added. "We are also committed to security coordination between us and the Israelis, for the protection of the interests of our people, and we are committed to popular peaceful resistance."
In the new Cabinet, Abbas loyalists retain key positions, including economy, finance, interior and foreign affairs, while other portfolios will be headed by independents.
Abbas was seen as having the upper hand in the unity negotiations, largely because Hamas had run out of options because of its financial crisis.
However, the last-minute spat before the ceremony signaled that disagreements are bound to erupt and that the ties between Hamas and Fatah will remain volatile.
Key issues have been put off, such as how to blend rival security forces.–AP