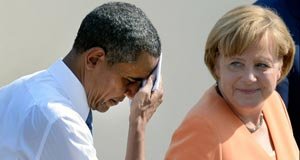 DER SPIEGEL'S DISCLOSURES ADD TO US-GERMAN TENSIONS
BERLIN, Oct 27 — The United States may have bugged German Chancellor Angela Merkel's phone for more than 10 years, according to a news report by the German magazine Der Spiegel, Aljazeera reported.
The report, released on Saturday, said that Merkel's mobile telephone had been listed by the NSA's Special Collection Service (SCS) since 2002, marked as "GE Chancellor Merkel", and was still on the list weeks before US President Barack Obama visited Berlin in June.
In an SCS document cited by the magazine, the agency said it had a "not legally registered spying branch" in the US embassy in Berlin, the exposure of which would lead to "grave damage for the relations of the United States to another government".
From there, NSA and CIA staff were tapping communication in the Berlin's government district with high-tech surveillance.
Quoting a secret document from 2010, Der Spiegel said such branches existed in about 80 locations around the world, including Paris, Madrid, Rome, Prague, Geneva and Frankfurt.
The magazine said it was not clear whether the SCS had recorded conversations or just connection data.
Germany's outrage over reports of bugging of Merkel's phone by the US National Security Agency prompted it to summon the US ambassador this week for the first time in living memory, an unprecedented post-war diplomatic rift.
German spy chiefs will travel to the United States next week to demand answers following the spy allegations.
But the magazine also reported that President Obama told the German leader he would have stopped the surveillance had he known about it.–Agencies