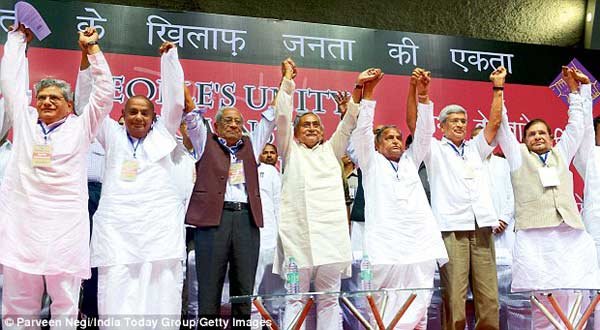 SAEED NAQVI
At this time of the year, Delhiites like to host Sunday lunches on their terraces and lawns where the fare ranges from indifferent kebabs to superb makke di roti and sarson da saag, with gur or jaggery and pure ghee. After the initial unpleasantries about pollution, (wheezing and coughing) they like to settle down, to politics, and, this year, to the coming elections.
Seldom have generally well informed people been so short on hard information. So, they liven their conversation with gossip which they pass on as information. There is no pundit around with a sure enough touch. This state of affairs is almost surreal and for an obvious reason.
Kafka's Castle is inaccessible and the coteries, themselves short on information, dissemble. Others, with the self assurance of the informed, are closer to business and industry which, in turn, is plugged into a coterie here, a coterie there.
Therefore, a hundred days from the elections, what does one make of Narendra Modi, Rahul Gandhi, AAP and the rising stock of the regional parties?
Narendra Modi became the BJP's election chief at the party's conclave in Goa last June.  In electoral politics, as in sports, a formation or an individual must peak weeks before the finals. Why was Modi boosted up into the stratosphere a full year before the elections?
Would he have the stamina to hold the nation's attention for so long? Might he not trip over the several cases plaguing him in Gujarat? He has walked around the minefields so far, but Snoopgate continues to threaten. It is an incredible narrative of surveillance systems in three states monitoring the movements of a young woman on behalf of "Sahib".
Why is the UPA dragging its feet on Snoopgate? Who in the establishment is so important that protecting him supersede concerns about Modi?
Congress General Secretary Janardhan Dwivedi has more or less announced that his party would like to sit in the opposition after the elections. What else does one make of his statement that the Congress should have occupied the opposition benches after the 2009 elections. That year the party won 209 seats, its highest score since 1991.
Rahul Gandhi has made it quite explicit in his TV interview that he has no fire in his belly for political power. But the Congress party is splurging hundreds of crores of rupees on a publicity blitz to boost his image. Is the party embarked on this media blitz despite the party vice president or is all of it happening under his supervision?
Why these confusing signals? Has the party calculated that in India, renunciation is deified? Is this why they are sending a prime ministerial candidate into electoral combat when he is demonstrably disinterested. Or is it something more simple: heads I win, tails you lose. If the party does well the story will be: the people were aching to bring their reluctant crown prince to power. If the voters do not turn to him this time, he can shrug his shoulders and say he never wanted it.
The media's dream to set up a Modi versus Rahul duel up to the elections should have ended in April 2013 when Rahul told the Confederation of Indian industry that he was busy building grassroots democracy in the party, to bring in more transparency.
He brought in distinguished election Commissioner K J Rao to organize a system of primaries for election in Youth Congress and National Students Union of India.
Even as I write Rahul has invited retired and respected election commissioners to wean out tainted Lok Sabha candidates. Also he is busy selecting 16 candidates to parliament as a pilot project. When will he be ready with his 543 Lok Sabha candidates and thousands for assemblies and panchayats? In two, five or ten years? Or is he, like Sisyphus, embarked on a longer project.
In the absence of information, rumors are rife. The current political scene does not promise a stable government post 2014. Fresh elections, in other words, may take place in, say, 2016. By which time, Rahul may be ready with his broad based system of candidate selection. The seasoned leaders who have seen the writing on the wall are sprinting towards the Upper House.
AAP's entry has created another uncertainty for the principal parties. On December 7, who knew what results recent elections would throw up the next day? The Congress was trounced in four states. The nation rubbed its eyes with disbelief as the AAP emerged in Delhi as the new, historic political happening.
When AAP tossed a handful of seed in the field of Delhi, who would have expected the spectacular harvest? Likewise, until the 2014 results, AAP will remain an unquantifiable electoral phenomena. AAP's impact will be two-fold. First, they have thrown a huge boulder in the political pond. The reverberations will affect political fortunes for a long time. Secondly what we must wait for, in nail biting suspense, is the prospect of its vertical growth in places it proposes to contest the coming elections.
Folks keeping a steady gaze only on the BJP, Congress and AAP, will miss out on the concert developing in the states. In the situation — comedy scripted by Jayalalithaa, CPI's A.B. Bardhan and Sudhakar Reddy had barely said good bye to her when Prakash Karat of the CPI-M walked in with roses.
After the elections, she can take her pick: either with the secular front or with Modi or, whoever it is who leads the BJP into a possible National Democratic Alliance. Poor Mamata Banerjee can neither go with the Left nor the BJP.
Will there be enough of a Congress left to need her with any sense of purpose? Or, will the Left have to be off loaded, unless, of course, they score enough to check Mamata. Even as these games progress, that enigmatic smile stretches along Mayawati's line of mouth.