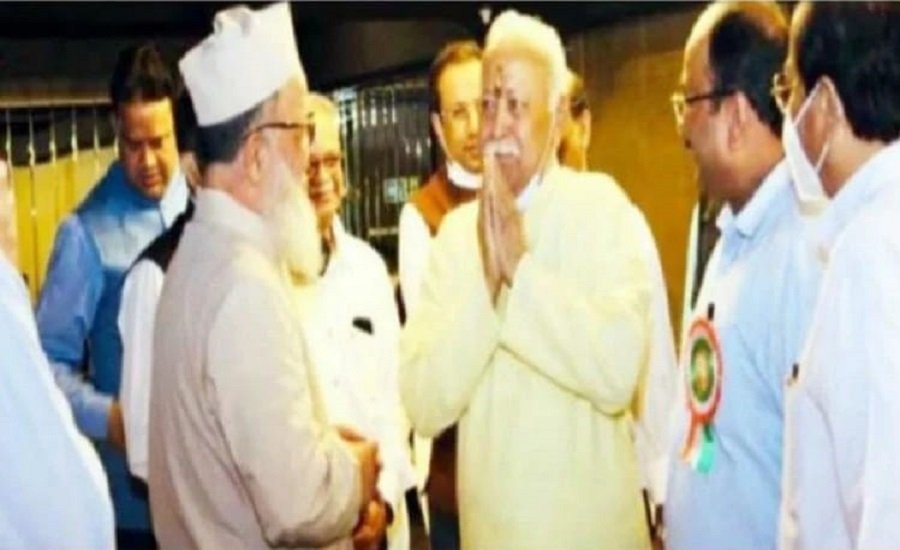 He was among the group of scholars who had interacted with RSS chief Mohan Bhagwat at a Mumbai event earlier this month
Zafar Aafaq | Clarion India
NEW DELHI — The Uttar Pradesh Anti-Terrorism Squad (ATS) arrested prominent Islamic scholar Maulana Kaleem Siddiqui from Meerut on Tuesday night over allegations of "illegal conversion".
The 64-year-old scholar was nabbed along with his four associates including his driver while he was on way home in Phullat village, 35 kilometers from Meerut, Osama Nadvi, a student of Siddiqui, told Clarion India. 
He said that Maulana Siddiqui was in Meerut to attend a dinner of one of his students, Maulana Shariq who is an Imam at a mosque in the city's Hamayun Nagar locality.
According to Nadvi, initially his family did not know about detention as there was no notice or statement from the authorities. "When Maualna Saheb did not reach home till late night, his family got worried since they were unable to connect him over phone. They called their contacts in Meerut who started searching and then approached police with a missing complaint," Nadvi said.
"The police did not confirm anything at first but when his supporters gathered outside Lisadigate police station they revealed about detention by ATS.
He added that Siddiqui and his associates have been taken to Lucknow, the capital of the state. "We do not know why they have detained him or if they are going to arrest him."
On Wednesday, the ATS issued a statement in which it accused Siddiqui and his associates of running a "conversion syndicate" and "getting funds from abroad illegally".
The agency said the accused are running a string of Madrassas in the country that they use to raise funds to do conversion-related work.
The ATS accused  Maulana Siddiqui  of distributing literature for free and  "misdirecting the non-Muslims" through conversion.
"He would use the cover of social harmony programmes to woo people and conduct their conversion to Islam," the statement said.
The statement also mentions about Maulana Umar Gautam who was arrested in June by ATS on similar charges of running an alleged "conversion racket" and converting 1,000 people to Islam. Earlier this month, a court in Lucknow allowed ATS to add charges of treason (conspiracy against country) against Umar and five others.
According to IANS, Uttar Pradesh Additional Director General (Law and Order), Prashant Kumar, said "Investigation shows that Maulana Kaleem Siddiqui's trust received Rs 3 crore in foreign funding including Rs 1.5 crore from Bahrain. Six teams of ATS have been formed to investigate this case."
Maulana Siddiqui, an alumnus of Darul Uloom Nadwa, runs three Madrassas — one in his village and two in New Delhi's Okhla area. He is known for his work in the field of Dawah (preaching). His team also runs a YouTube channel 'Al Qalam TV' where they put out stories of people influenced by Islam. He has his own YouTube channel as well where he posts lectures on Islam.
Siddiqui was among a group of Muslim scholars who earlier this month gathered in Mumbai at a function convened by a Pune-based think-tank linked with Rashtriya Swamsewak Sangh (RSS). The gathering was addressed by RSS chief Mohan Bagwat.