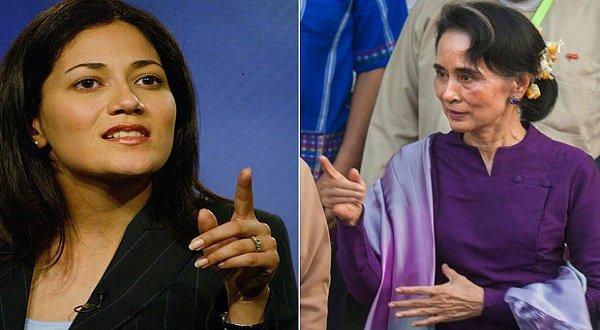 The Nobel Peace Prize laureate made an off-air comment about BBC Today presenter Mishal Husain after losing her temper, new book reveals
By Jennifer Rigby, Rangoon and Nicola Harley | The Telegraph
[dropcap]B[/dropcap]urma's Aung San Suu Kyi is globally revered for her patient, peaceful struggle for democracy, which will finally see her take power next week – but a clash revealed in a new biography of her paints a rather different picture.
According to the book, Ms Suu Kyi lost her temper after a robust interview with BBC Today programme presenter Mishal Husain and muttered off-air: "No-one told me I was going to be interviewed by a Muslim."
The book reveals that the 70-year-old president of Burma's National League for Democracy refused to condemn anti-Islamic sentiment and massacres of Muslims in Burma when she was repeatedly asked to do so by Husain, the first Muslim presenter of Radio 4's Today programme, during the interview.
Her response was: "I think there are many, many Buddhists who have also left the country for various reasons. This is a result of our sufferings under a dictatorial regime."
Her National League for Democracy party sailed to victory in November's 2015 election but it did so without any Muslim candidates, and her government will have no Muslim ministers.
She has also been criticised for her failure to condemn the persecution of the country's Rohingya Muslim minority, 140,000 of whom still live in miserable conditions in internally displaced persons camps more than three years after violent clashes with the local Buddhist majority.
While Ms Suu Kyi, affectionately known as "The Lady", will not be Burma's president after the still-powerful military refused to budge on a clause in the constitution, she is set to rule by proxy through her nomination Htin Kyaw and remains by far the most influential politician in the country.
The latest indication of her attitude comes in a new biography called "The Lady and the Generals: Aung San Suu Kyi and Burma's Struggle for Freedom", written by journalist Peter Popham.
"I thought it was worth including in the book because it just feeds into the ambiguity of her position regarding this issue," he said.
"One has great admiration for her and her life story and courage, but nobody believes anymore that she is a person without any faults and without her own prejudices and limitations."
However, he does not believe she is prejudiced against Muslims, pointing out for example that her first serious boyfriend was from Pakistan and that one of the people who persuaded her into politics in 1988 was a prominent Burmese Muslim intellectual.
In a country which remains largely anti-Muslim, he believes she has kept quiet on her own views in order to secure power for her party, which takes power officially next week.
For Muslims in Burma though, the story is more complex. Many still support Ms Suu Kyi, but there are increasing concerns that she may not have as much sympathy for their plight as they had hoped.
As the UK Burma Campaign's Mark Farmaner put it: "After the NLD failed to field any Muslim candidates, one Muslim in Burma told us, we'll still vote NLD, but we'll be holding our noses when we do it."
http://www.telegraph.co.uk/news/worldnews/asia/burmamyanmar/12204113/Aung-San-Suu-Kyi-in-anti-Muslim-spat-with-BBC-presenter.html