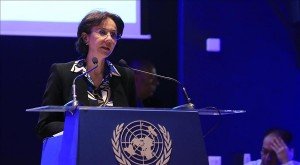 Report by UN Economic and Social Commission for Western Asia says world's ignorance has encouraged Tel Aviv
BEIRUT (AA) — The UN on Wednesday accused Israel of imposing an "apartheid regime" on the Palestinian people — the first time a UN agency had levelled such a allegation.
A report commissioned by the Beirut-based UN Economic and Social Commission for Western Asia (ESCWA) said Israel had "established an apartheid regime that dominates the Palestinian people as a whole".
UN Under-Secretary General and ESCWA Executive Secretary Rima Khalaf said the "ignorance of the international community, over the past decades, has encouraged Israel to continue its abuses of international law."
She told a news conference in Beirut that the report "clearly and frankly" concluded that "Israel is a racist state that has established an apartheid system that persecutes the Palestinian people."
The report said there was "overwhelming evidence" of Israel's guilt of the "crime of apartheid".
It added that the "strategic fragmentation" of Palestinians into four groups — Palestinian citizens of Israel; Palestinians in East Jerusalem; Palestinians in the West Bank and Gaza Strip; and Palestinian refugees or exiles — allowed Israel to carry out its apartheid policies.
A two-state solution cannot be applied until the "apartheid regime" is dismantled through international pressure, Khalaf said.
The report was prepared by Richard Falk, an international law and human rights expert and a former UN human rights rapporteur for the occupied territories, and Virginia Tilley, a political science professor and an expert in Israeli studies.
ESCWA is made up of 18 Arab states to support economic and social development.