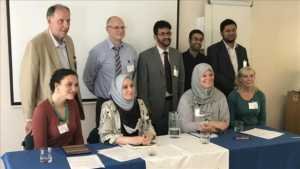 Ahmet Gurhan Kartal
LIVERPOOL (AA): U.K. politicians should consider regulation to tackle the tide of negative media coverage about British Muslims.
This was the message from a Liverpool conference this week which examined damaging and biased news stories about Britain's Muslim community.
The event, organized by Dr. Salman Azami of Liverpool Hope University, saw academics and journalists discuss the effects of unfair and stereotyped portrayals of Muslims.
One of its key findings was the need to raise awareness on issues facing Britain's Muslims by urging politicians to engage more with the community.
Azami told Anadolu Agency he wanted the event to look at "whether the media coverage on Muslims in Britain is effective or counterproductive, whether it is sensitive or insensitive, whether it is fair or unfair".
"There are a lot of negativities; I think there should be some sort of regulation that politicians need to think about," Azami added.
He also urged British lawmakers to act against deliberately negative media coverage on Islam-related stories.
Speakers from different ethnic and religious backgrounds reflected on Azami's recent work — Religion in the Media: A Linguistic Analysis — which "investigates how the three Abrahamic faiths – Christianity, Judaism and Islam – are represented in mainstream British media and analyses how members of each religious group and those with no religion receive those representations".
Contributors at the conference discussed their experiences about negative coverage by some journalists and social media account holders.
Journalist Lauren Booth referred to what she described as "unfair" coverage by the British media after her conversion to Islam in 2010.
Booth is half-sister of former Labour Prime Minister Tony Blair's wife Cherie Blair; Booth's conversion to Islam later attracted some hostile media coverage.
Speaking to Anadolu Agency, Booth said: "This event has been important to bring together different voices… to talk about our experiences of speaking out against some projects led by the government such as Prevent, which is an anti-terror strategy, and to ask questions [such as] if these are not working, what's the government doing to protect all the people of Britain right now, including Muslims?"
"This is not coming from a place of victimization. We are calling for action, action from within the Muslim community but also action from the government and institutions to see that we are protected, that we are not disconnected from the discourse," she added.
Participants also heard that "negative presentations of Muslims by the media play into the hands of those who want to divide us" and claimed those who worked in the media often lacked "cultural understanding and sensitivity about Muslims".
'Leadership needed'
One contributor was treasurer of the Muslim Council of Britain, Talha Ahmed. Speaking to Anadolu Agency, Ahmed said better leadership was needed:
"I think the politicians ought to show greater and better leadership. Muslims are citizens of this country and as such the government has a duty towards their citizens.
"The anecdotal evidence suggests the media directly contribute to growing hostility towards Muslims, growing discrimination against Muslims."
He said "systematic discrimination" was preventing British Muslims from contributing to the country as much as they could, and said the government was "duty-bound, both legally and morally" to do more.
However, he suggested the British government was "changing", especially after a number of violent assaults on Muslims, particularly the June 19 attack in Finsbury Park, north London
"There is a growing realization that anti-Muslim hatred is a real issue and the government has now started talking about it…
"Yes, the priorities have been too low for too long but late is better than never and we sincerely hope that we will move forward with the renewed commitment to tackle all forms of hatred, especially Islamophobia, which is on the rise".