Kate Munsch 
FERGUSON, Missouri — Two police officers in Ferguson, Missouri, were shot early on Thursday in what officials called an ambush following months of acute tensions over relations between police and minority groups in the St. Louis suburb.
The officers were in serious condition at a local hospital, said St Louis County Police Chief Jon Belmar, and a manhunt was under way for a suspect or suspects.
A 41-year-old officer from the St. Louis County Police was struck in the shoulder and a 32-year-old officer from the nearby Webster Groves Police Department had a bullet lodged near his ear after it passed through his cheek, Belmar said.
"This is really an ambush, is what it is," Belmar said. "You can't see it coming. You don't understand that it's going to happen. You are basically defenseless from the fact that it is happening to you."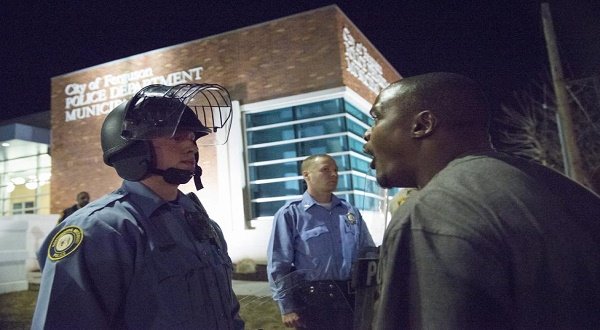 The shootings came as a rally in front of the city's police headquarters was dispersing, hours after the local police chief resigned in the wake of a scathing U.S. Justice Department report finding his force was rife with racial bias. Ferguson's police department is almost entirely white, while the majority of the city's residents are African-American.
The turmoil in Ferguson was triggered in August by the killing of an unarmed black teenager by a white policeman, thrusting the town into the center of an intense national debate over law enforcement's use of deadly force against minorities.
The shooting of 18-year-old Michael Brown by police in Ferguson, along with other police slayings of unarmed people in cities including New York and decisions by grand juries not to charge the involved officers, last year sparked months of protests around the United States.
In a news conference on Thursday, Belmar said authorities had possible leads in finding whoever was responsible for the shootings of the officers but he declined to reveal specifics.
"This is No. 1 priority of St. Louis country police to identify that individual or individuals," Belmar said. Officers had not returned fire but in future they may decide to shoot back, he said.
"These police officers were standing there and they were shot, just because they were police officers," Belmar told reporters soon after the shootings.
"I have said all along that we cannot sustain this forever without problems," he said, referring to festering tensions in the city since Brown's death last summer.
Belmar said the officers, whom he did not identify, were both conscious and hospitalized.
The protest started peacefully on Wednesday soon after Police Chief Tom Jackson said he was stepping down. But about two dozen officers clad in riot gear later faced off with demonstrators and at least two people were taken into custody.
When gunshots rang out about midnight, the scene turned into pandemonium. Many of the few dozen demonstrators who were still at the scene fled, some screaming.
The line of police scrambled, with many taking defensive positions with weapons drawn and some huddling behind riot shields, according to a video published online.
(Additional reporting by David Bailey; Writing by Frank McGurty; Editing by Tom Heneghan, W Simon, Bill Trott, Bernadette Baum and James Dalgleish)