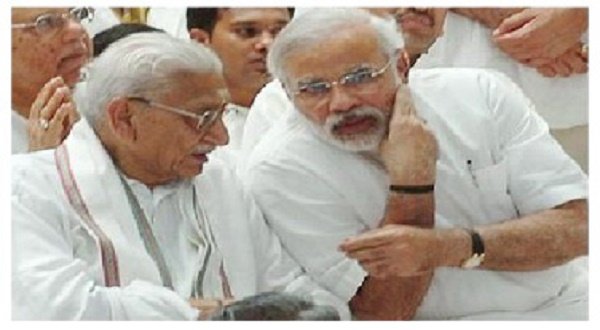 A time-tested tactic of the octopus-like RSS that generates terror in the public sphere by the mutterings of a Singhal and a Togadia and allows the flag bearer beneficiaries of this hate-splitting in governance, the luxuries of convenient, intermittent,  silences
TEESTA SETALVAD
[dropcap]I[/dropcap] do not expect there to be any outrage, comment or protest over the most recent rants of Ashok Singhal, senior Rashtriya Swayamsevak Sangh leader and patron of the Vishwa Hindu Parishad (VHP), an RSS offshoot in an interview published in the Hindustan Times (July 17). We have as a nation and a polity become sinisterly and compliantly accustomed and accepting of aggressive hatred spilled by the majority and hypocritically touchy and outraged by similar rantings by so-called leaders of the minority. How deep this hypocrisy of majoritarianism has spread is evident in the coverage and depiction of hate speech by our electronic media that picks and chooses what to show, how often and when.[divider]
So the hate-ridden rantings of an Owaisi, or a Qader Rana will be run and re-run across networks and channels but equally insidious and as or more dangerous ravings of politicians who play on the identity of the majority are glossed over, hidden and remarkably, not even commented upon.[divider]
Singhal tells us through this interview, that he welcomes with all his heart the first RSS pracharak as Prime Minister of India but, adding the proverbial sting to the tale, says that what is truly historical and remarkable about NDA II's victory is that this electoral win was ensured without Muslim votes or support. Barefacedly lending voice to what more sophisticated faces in government including the now maun (silent) PM would presently rather leave unsaid, Singhal gloats on the disenfranchisement of India's largest minority during democratically conducted elections. A time-tested tactic of the octopus-like sangh that generates terror and intimidation in the public sphere by the mutterings of a Singhal and a Togadia and allows the flag bearer beneficiaries of this hate-splitting in governance, the luxuries of convenient, intermittent,  silences.
The Advani-Vajpayee duo in the first NDA were a fine example of this. [Though,  Advani often relapsed into expressing well trained views especially after the brutal burning alive of Graham Staines and his sons (Orissa, January 1999).] NDA II has witnessed some interesting role reversals with many of the flag bearers of hate mongering now at the helm: a cabinet full of hate mongers are in the government's driving seat. Singhal also emphasizes and welcomes – undoubtedly for the reassurance of the sangh support base — all those being chosen for post of Governors are Sanghis,  Ram Naik or a  Kesari Nath Tripathi.
There is more. Carefully laying bare the politics of the Sangh and its parliamentary wing, the Bharatiya Janata Party (BJP) that is in power at the center with a majority, Singhal has told us what his government's approach will be. Under NDA II he says, Muslims will be treated as "common citizens" (one wonders if there is something derogatory intended given the caste hierarchies and constructions within sangh hierarchy) but only if they respect "Hindu" sentiments.
Who and what is Hindu and does the sangh represent all Hindus? There is nothing to establish that the RSS and VHP and BJP are either the upholders or the sole representatives of Hinduism and Hindus. So what kind of sentiments of which kind of Hindu will be hurt? And who decides?
Given the nationwide outrage of India and Indians on December 6, 1992 and thereafter and again February 27-28, 2002 and after, it is safe to assert that a vast majority of Indians, of all castes and communities were repelled by the acts that Singhal, the sangh and the current political leadership in Delhi.
The criminal and illegal act of demolition of a place of worship is and was a matter of shame for many Indians – Hindus and others – and has also been so condemned by a vast majority. Gujarat 2002 and what it meant has also been condemned and chronicled in detail to date. The National Human Rights Commission (NHRC) and the Supreme Court of India have been unequivocal.
Singhal has conditions that Muslims will have to meet if they want this common decency treatment, however. For one, they must concede the Kashi and Mathura temples and accept a uniform civil code. The battle lines are clear and being drawn, temples at Mathura and Benares will be claimed not because Hindus want them or all Indians agree on this majoritarian demand but because the Sangh has decided to keep these conflicts on the boil.
These conflicts have and are deliberately chosen to manipulate sentiments and consolidate a section of Hindu votes by misreading and manipulating history. They are also issues that will, if politics continues predictably and non-sectarian votes do not consolidate in opposition, ensure deep divisions and conflict within which the sangh  and only the sangh  emerges as victor.
Singhal had a rather obnoxious take on the 2002 violence in Gujarat which his poster boy prime minister may not want repeated right now. In September-October 2002, Singhal had made a statement in Amritsar stating that, "the Gujarat experiment was successful… entire villages were purged of Islam".
This left no ambiguity as to what the intention, motive, the mens rea  of the post Godhra reprisal killings was and remains. This was just weeks after the present prime minister's shocking speech at Becaharaji, Mehsana on September 9, 2002, denigrating Islam and ridiculing the thousands displaced because of the violence when he reportedly said that "relief camps are baby producing factories".
Another VHP veteran, the rather intimidatingly attired Acharya Giriraj Kishore died in his mid-nineties last week and he, like Singhal had a special role in the post Godhra reprisal violence that had been made to erupt all l over Gujarat in 2002. It has often bothered me that elderly men such as these are able to so carefully cultivate, carry and spew unadulterated venom, anathema to the spiritual Sadhu  and venerated wise man of lived Hinduism. The reality of the globalized, modern day Hindutva-ised man, political in aim, clad in deep saffron.
Giriraj Kishore had, among other things, been given police escort by the Commissioner of Police, Ahmedabad on the morning of February 28, 2002, to travel down to the Sola Civil hospital where the bodies of the dead and deformed Godhra victims lay. He then travelled for hours with the funeral procession to the Gota crematorium, a procession that was rowdy and aggressive, being egged on by "leaders" and their speeches. Jaideep Patel of the VHP had been directed to escort bodies from Godhra to Ahmedabad. Lack of adequate policemen was the excuse given by the same police to hapless residents of Naroda and Gulberg society, areas under attack for several hours, in daylight.
Singhal, Kishore and Togadia had been carefully orchestrating the minds of the mobs on the streets be it at Ayodhya or its lead up on Advani's yatra or before, at and around Godhra as Gujarat burned in 2002. This was why, the same Ashok Singhal disagreed with Vajpayee who blamed the 2004 poll debacle on the Gujarat 2002 violence.
Firmly rejecting Vajpayee's thesis, Singhal, gave an unequivocal nod of approval to, and a bizarre interpretation of,  the post-Godhra killings when he spoke to trishul wielding VHP men at Kolkatta on July 3, 2004. The working President of the VHP, Ashok Singhal told an open session of the VHP at Nazrul Manch in South Kolkatta, "what happened in Gujarat after Godhra had the blessings of Lord Rama."
There is more than a fair chance that devout followers of the Lord himself may cringe at this crass celebration of blood-letting. Meanwhile, for all of us concerned at the sudden silence of another avatar of a maun prime minister, switch to the Sangh, Singhal, Ram Madhav et al to understand the workings of its mind.
Forgive us Babasaheb (Ambedkar) for this travesty on the Indian Constitution….
_______________________________________________________________________
All opinions and views expressed in columns and blogs and comments by readers are those of individual writers and do not necessarily reflect the editorial policy of Caravan