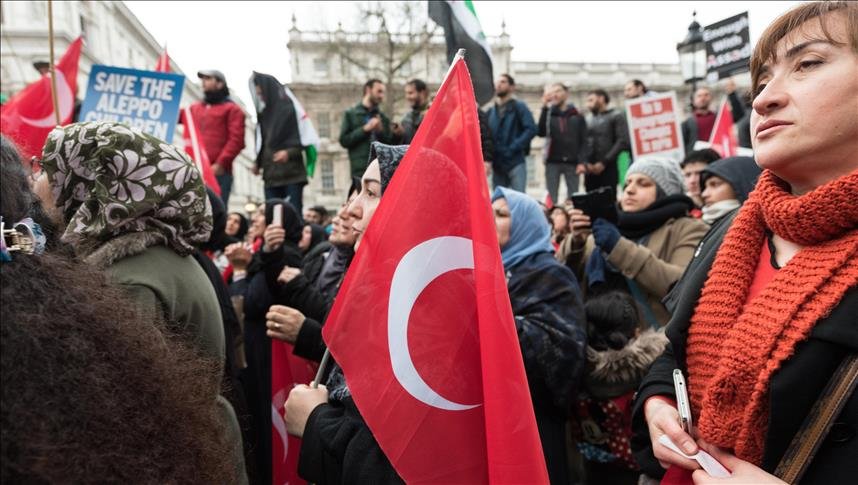 LONDON (AA): Thousands gathered across London on Saturday to protest violence against civilians in Syria's Aleppo.
In central London, protestors marched from Marble Arch to Downing Street holding placards that read "hand in hand with Aleppo" and "enough with Assad".
They waved Turkish flags and Syrian flags, and chanted "drop aid not bombs" in solidarity with the war-torn country.
British doctors and nurses also organized a protest outside the parliament, staging a "die-in".
Activists from CanDo and Medics Under Fire gathered at London's Chelsea and Westminster Hospital to set off a convoy to the Syrian Turkish border with £150,000 (USD $187,000) of donations raised to build a children's hospital in Aleppo.
Joining the activists at the convoy, Dr Saleyha Ahsan, a 45-year-old emergency medicine doctor and co-founder of Doctors Under Fire, told Anadolu Agency that Turkish people have been a tremendous help in realizing the project.
"Turkish people came on board and helped us out. I am a doctor. I don't know about trucks or customs. They have given up their time in a short notice," she said.
The activists expressed solidarity with medical professionals and volunteers working under horrible conditions in Syria, especially in Aleppo.
Syria has been locked in a vicious civil war since early 2011, when the Bashar al-Assad regime cracked down on pro-democracy protests — which erupted as part of the "Arab Spring" uprisings — with unexpected ferocity.
More than a quarter of a million people have been killed and more than 10 million displaced across the war-battered country, according to the UN.
Since mid-November, the regime and its allies have stepped up their attacks on opposition-held parts of Aleppo, reportedly causing hundreds of civilian deaths and thousands of injuries.
All hospitals in the besieged city of Aleppo in northeastern Syria have been forced to shut down due to relentless airstrikes by the regime and Russian warplanes.