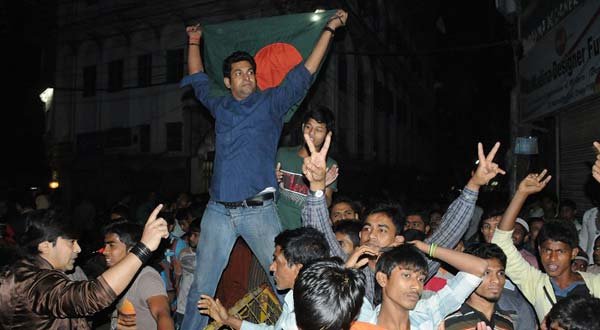 SUBHASH GATADE
….It is not the young who are writing obituaries for the old,…I have seen the blood shed by so many young people steadily mounting up until now I am submerged and cannot breathe. All I can do is take up my pen and write a few articles, as if to make a small hole in the mud through which I can draw a few more wretched breaths. What sort of world is this ? The night is so long, the way so long….
–Lu Xun, Written for the Sake of Forgetting, P 234, Selected Works of Lu Xun, Vol III, Beijing
[dropcap]M[/dropcap]d Oyasiqur Rahman Babu , aged 27 years is dead. A travel agency executive by profession and a secular blogger by passion he was killed by radical Islamists in Tejgaon, Dhaka when he was going to office in Motijheel. The three assailants – who did not personally know each other – met just for planning the murder and then executed it with military precision.
Thanks to the courage exhibited by transgenders living nearby who caught hold of these murderers while the locals who watched the act before their eyes just dithered to move. Zikrullah, a student of Hefazat-e-Islam's Hathazari Madrassa in Chittagong, and Ariful, student of Mirpur Darul Uloom Madrassa – were caught while the third member of the team, Abu Taher of Mirpur Darul Uloom, managed to flee the spot. They said they had killed Oyasiqur for writing on religious issues.
It is a different matter that none of them had read his blog, they even did not know what blogging is, they  just executed the order issued by some mastermind. The duo told a police official: "Our religious teacher told us that he [Oyasiqur] is an anti-Islamic person. It was our responsibility as believers to kill him. So, we killed him,"
It is a third killing by Muslim extremists within a span of two years. First it was Ahmad Rajib Haider, who was killed in February 2013, when the historic Shahbagh movement was at its peak. Then came the turn of Avijit Roy, a Bangladeshi-American blogger, when death pounced on him last month, in Dhaka when he was coming out of the Ekushe Book Fair and now it is Washiqur Rahman.
All the three were premediated, copycat murders. Cry of 'hurt sentiments', use of machetes, key role played by young Muslim radicals, brutality of the crime. Washqur's case, they had tried to deface him in such a manner that it was difficult to even recognize him.
In an interview to NPR radio, Zafar Sobhan, editor of 'Dhaka Tribune' told that Oyasiqur Rahman Babu was part of a bloggers group called 'Logical Forum' – which carried lively debates on religion and fundamentalism and were critical of all religions.
He was known as Oyasiqur Babu on Facebook and used to write under pseudonyms on popular blogs. He had written several notes opposing irrational beliefs, superstitions and radical Islamists. An admirer of Avijit Roy who had recently changed his profile picture to the hashtag "#iamavijit" on a black background.
His Facebook cover photo also displayed the hashtag #WordsCannotBeKilled. After Avijit's death he had also mourned the killing of Ahmed Rajib Haider, known online as Thaba Baba and vowed to continue fighting.
As has been witnessed in previous cases many pro-Jamaat Facebook pages tried to rationalize and justify murder of Oyasiqur Rahman claiming that "the atheist had committed crimes by criticizing religion." Close watchers of the situation know very well that the "call of hurting sentiments" or "criticizing religion" is not the real issue.
The anger and rage of various shades of radical Islamists  against these bloggers has roots in the key role played by these online groups and network of bloggers in laying the foundation of the historic Shahbagh movement and the manner in which they were put on the defensive by the ensuing torrent of humanity merely two years back.
Today, when majoritarians of various shades and colors are gaining ascendance in South Asia, it would be difficult to believe that this movement witnessed participation of hundreds of thousands of people for days together on the streets of Dhaka and other parts of Bangladesh, demanding strict punitive action against war criminals and their organizations. The manner in which Shahbagh movement raised the debate to a new level and raised the question of separation of religion and politics has been unprecedented in recent times.
Oasiqur Rahman Babu, who was otherwise a very shy, introvert type person, is dead. But his words would keep ringing in our ears for times to come "The pen will remain active, will continue till the death of your belief."
_________________________________
All opinions and views expressed in columns and blogs and comments by readers are those of individual writers and do not necessarily reflect the editorial policy of Caravan