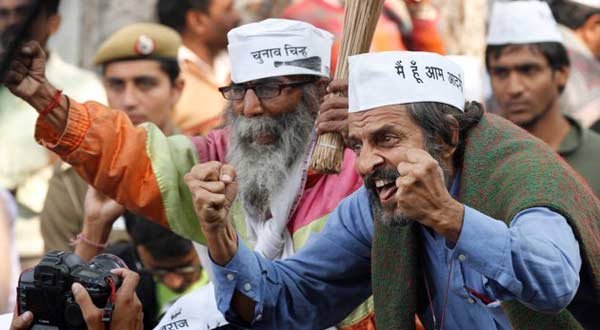 AAP is on the cusp of a historic change and opportunity.  It has already effected a paradigm shift and ushered in a whole new era and way of politics, capturing the imagination of both the educated elites and lowest of the low in Delhi.  Can it do the same at the national level to step into the void created by the Congress's abject surrender?
AIJAZ ZAKA SYED
[dropcap]I[/dropcap]n the right light and at the right time, reasoned Wendy Magruder, everything is extraordinary. So what turns ordinary into extraordinary? How do ordinary, commonplace people suddenly find themselves touched by greatness?
There is nothing extraordinary about Arvind Kejriwal. The man epitomizes ordinariness and revels in being commonplace. When he and his fellow travelers of the India Against Corruption movement came up with the idea of the 'Aam Aadmi Party,' one was struck by the sheer predictability and boring ordinariness of the name. But they couldn't have perhaps come up with a more apt, defining and descriptive label for a party, a movement rather, dedicated to the so-called Common Man.
And Kejriwal and his band of activists, political upstarts and young army of idealistic supporters have gone out of their way to ensure that they remain ordinary and connected to the issues and insecurities of ordinary people. Suddenly, it is cool to be ordinary and commonplace.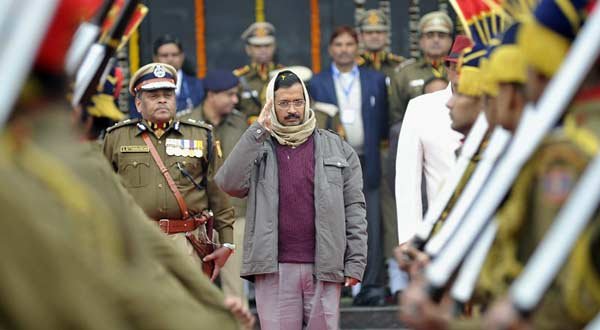 Everything about the former civil servant is mundane and ordinary. From his plebian, street manner and humdrum speeches — punctuated by constant coughing — to his drab appearance that includes the regulation, ghastly checkered shirt, indistinguishable sweater and the characteristic muffler of course, there's little that is out of the ordinary.
Indeed, he looks almost comical, deliberately funny. In his media interactions, he comes across as little more than a dull, provincial official, offering few flashes of brilliance and ready sound bites for primetime news.
But there is a curious Gandhian charm and gravitas in his ordinariness and unaffected humility.
As Shiv Visvanathan wrote on the eve of Kejriwal's first date with power in Delhi in 2013, "If R K Laxman were to redo the common man today, Kejriwal could be an easy choice. He not only represents the common man, he feels commonplace. The­re is something mousy about him.One look at him and you feel, even I can be a piece of history.He is often ridiculously comic as he wraps his shawl ar­ound his head and th­en caps it with a topi. It looks ridiculous and yet that very ridicul­o­usness signals a new pe­riod of history."
Ridiculous Kejriwal and AAP's brand of politics maybe but it seems to have already turned Delhi politics on its head. As Shahrukh Khan's character in the exasperating 'Chennai Express' says ad nauseum, never underestimate the power of the common man.
Kejriwal appears all set to repeat history in Delhi defying an all-out, bitter and often below-the-belt BJP campaign led by the prime minister himself. The desperation of the formidable party in power in Delhi has shown itself at every turn during these extraordinary elections for the tiny but most important Delhi Assembly.  It has thrown everything in its bag of tricks at AAP hoping something would stick.  It has forced several senior federal ministers into campaigning for the party in Delhi.
The BJP hue and cry about the AAP receiving Rs 2 crores (20 million) in donations through perfectly legal channels demanding Kejriwal's scalp is almost funny.  It's hardly a secret that both the BJP and Congress have fought elections all these years with hefty backdoor corporate donations running into hundreds of crores.
Taunting Kejriwal and AAP on the issue, Modi warned that people can tolerate mistakes but will not forgive deceit.  Yes, you can get away with murder but you are fit to be burnt at the stake if you accept a couple of crores in political donations and have the audacity to put up the details on the party website! But then duplicity is a minor sin considering the proud legacy of the party in power.
The all-powerful prime minister who won the 2014 General Elections with an unprecedented, overwhelming majority and has repeated the performance in the successive state elections since, virtually decimating the grand old party Congress cannot obviously confront the idea of being upstaged by an upstart right under his nose in Delhi, the national capital.
This is why this battle for Delhi is so critical.  Although the AAP sees it as a do-or-die battle to reclaim its lost ground, it really has nothing to lose.  The stakes for the BJP on the other hand have never been higher.
No wonder Modi comes across as angry and bitter in his speeches in Delhi, a far cry from the chutzpah and cool confidence witnessed during the campaign last year.
This is a classic David versus Goliath contest, if ever there was one. And if Kejriwal wins this round in Delhi, the AAP has the potential to emerge as a serious challenge to the ruling establishment at the national level.
The Congress is yet to get over its humiliating drubbing last year.  While victory and defeat are part and parcel of the game of electoral politics, with the complete silence and virtual vanishing of the national leadership of the Gandhis, the grand old party has withdrawn into its shell like never before, abandoning an even a notional role of opposition.
Unless, there is a big shake-up in the party, perhaps with the mother and son duo stepping aside to make way for a new leadership, there's little chance of the party that led the Independence movement rising Phoenix like from its ashes, as it did in the past whenever it was written off.
The assorted regional, secular parties like the so-called Janata Parivar do not offer much hope either. They haven't had a stellar record of remaining grounded and united when in power and aren't therefore taken seriously by the voter.
So, Right now, there's never been a greater need and space for a strong credible national alternative to confront the BJP and its increasingly ambitious agenda to paint the republic in saffron.  It openly talks about amending the constitution to drop defining words like 'Secular and Socialist' from the name of the republic. The RSS has convinced itself that India is already a Hindu Rashtra.
Can the AAP take on the challenge? Barely two year old, it is still a novice in Indian politics, an enfant terrible, if you will. However with its clean, inclusive politics and championing of the marginalized and dispossessed communities, it offers an alternative worldview to the unicolor, majoritarian aggression of the governing party and its extended clan.
However, to emerge as a national and healthy alternative in the long run, it has to look and grow beyond cities like Delhi and needs to be more broad-based in its approach and politics. After all, as Gandhi said, India lives in its villages.
AAP and Kejriwal are destined for greatness and greater glory, if they choose their path and roadmap carefully. If anyone can stop their onward march, it is their own haste and recklessness, as had been the case last year when an impulsive Kejriwal in a huff decided to quit after only 49 days in power in Delhi.
He has repeatedly apologized for that historic blunder and 'running away' from his responsibility.  Let us hope the party has learnt its lessons and is here to stay for the long haul–for as long as it takes.
As someone said we are not born great. It is the circumstances and what we make of them that make us great.
AAP is on the cusp of a historic change and opportunity.  It has already effected a paradigm shift and ushered in a whole new era and way of politics, capturing the imagination of both the educated elites and lowest of the low in Delhi.  Can it do the same at the national level to step into the void created by the abject surrender by the Congress? The future belongs to it, if only it could reach out and snatch it.  The only challenge to AAP is the AAP itself.