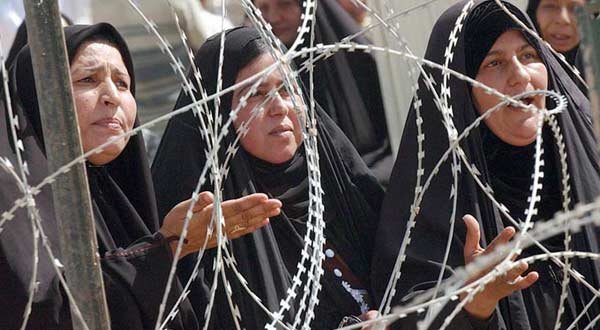 In continuing shame of Abu Ghraib culture, how thousands of Iraqi women are subjected to worst forms of physical and mental abuse
  
RAMZY BAROUD
"When they first put the electricity on me, I gasped; my body went rigid and the bag came off my head," Israa Salah, a detained Iraqi woman told Human Rights Watch (HRW) in her heartrending testimony.
Israa (not her real name) was arrested by US and Iraqi forces in 2010. She was tortured to the point of confessing to terrorist charges she didn't commit. According to HRW's "No One is Safe" – a 105-page report released on Feb 06 –- there are thousands of Iraqi women in jail being subjected to similar practices, held with no charges, beaten and raped.
In Israa's case, she received most degrading, but typical treatment. She was handcuffed, pushed down on her knees, and kicked in the face until her jaw broke. And when she refused to sign the confession, it was then that electric wires were attached to her handcuffs.
Welcome to the 'liberated' Iraq, a budding 'democracy' which American officials rarely cease celebrating.
There is no denial that the brutal policies of the Iraqi government under Nouri al-Maliki is a continuation of the same policies of the US military administration, which ruled over Iraq from 2003 until the departure of US troops in Dec. 2011.
It is as if the torturers have read from the same handbook. In fact, they did.
The torture and degrading treatment of Iraqi prisoners –- men and women -– in Abu Ghraib prison was not an isolated incident carried out by a few 'bad apples.'
Only the naïve would buy into the 'bad apples' theory, and not because of the sheer horrendousness and frequency of the abuse. Since the Abu Ghraib revelations early in 2004, many such stories emerged, backed by damning evidence, not only throughout Iraq, but in Afghanistan as well.
The crimes were not only committed by the Americans, but the British as well, followed by the Iraqis, who were chosen to continue with the mission of 'democratization.'
"No One is Safe" presented some of the most harrowing evidence of the abuse of women by Iraq's criminal 'justice system'.
The phenomenon of kidnapping, torturing, raping and executing women is so widespread that it seems shocking even by the standards of the country's poor human rights record of the past. If such a reality were to exist in a different political context, the global outrage would have been so profound.
Some in the 'liberal' western media, supposedly compelled by women's rights would have called for some measure of humanitarian intervention, war even. But in the case of today's Iraq, the HRW report is likely to receive bits of coverage where the issue is significantly deluded, and eventually forgotten.
In fact, the discussion of the abuse of thousands of women –- let alone tens of thousands of men -– has already been discussed in a political vacuum. A buzzword that seems to emerge since the publication of the report is that the abuse confirms the 'weaknesses' of the Iraqi judicial system.
The challenge then becomes the matter of strengthening a weak system, perhaps through channeling more money, constructing larger facilities, and providing better monitoring and training, likely carried out by US-led training of staff.
Mostly absent are the voices of women's groups, intellectuals and feminists who seem to be constantly distressed by the traditional marriage practices in Yemen, for example, or the covering up of women's faces in Afghanistan. There is little, if any, uproar and outrage, when brown women suffer at the hands of western men and women, or their cronies, as is the situation in Iraq.
If the HRW report remerged in complete isolation from an equally harrowing political context created by the US invasion of Iraq, one could grudgingly excuse the relative silence. But it isn't the case. The Abu Ghraib culture continues to be the very tactic by which Iraqis have been governed since March 2003.
Years after the investigation of the Abu Ghraib abuses had begun, Major General Antonio Taguba, who had conducted the inquiry, revealed that there were more than 2,000 unpublished photos documenting further abuse. "One picture shows an American soldier apparently raping a female prisoner while another is said to show a male translator raping a male detainee," reported the Telegraph newspaper on May 2009.
Maj Gen Taguba had then supported Obama's decision not to publish the photos, not out of any moralistic reasoning, but simply because
"the consequence would be to imperil our troops, the only protectors of our foreign policy, when we most need them, and British troops who are trying to build security in Afghanistan." Of course, the British, the builders of security in Afghanistan, wrote their own history of infamy through an abuse campaign that never ceased since they had set foot in Afghanistan.
Considering the charged political atmosphere in Iraq, the latest reported abuses are of course placed in their own unique context. Most of the abused women are Sunni, and their freedom has been a major rallying cry for rebelling Sunni provinces in central and western Iraq.
In Arab culture, dishonoring one through occupation and the robbing of one's land comes second to dishonoring women. The humiliation that millions of Iraqi Sunni feel cannot be explained by words, and militancy is an unsurprising response to the government's unrelenting policies of dehumanization, discrimination and violence.
While post-US invasion Iraq was not a heaven for democracy and human rights, the 'new Iraq' has solidified a culture of impunity that holds nothing sacred. In fact, dishonoring entire societies has been a tactic in al-Maliki's dirty war. Many women were "rounded up for alleged terrorist activities by male family members," reported the Associated Press, citing the HRW report.
"Iraqi security forces and officials act as if brutally abusing women will make the country safer," said Joe Stork, deputy MENA director at HRW. It was the same logic that determined that through 'shock and awe' Iraqis could be forced into submission.
Neither theory proved accurate. The war and rebellion in Iraq will continue as long as those holding the key to that massive Iraqi prison understand that human rights must be respected as a precondition to a lasting peace.