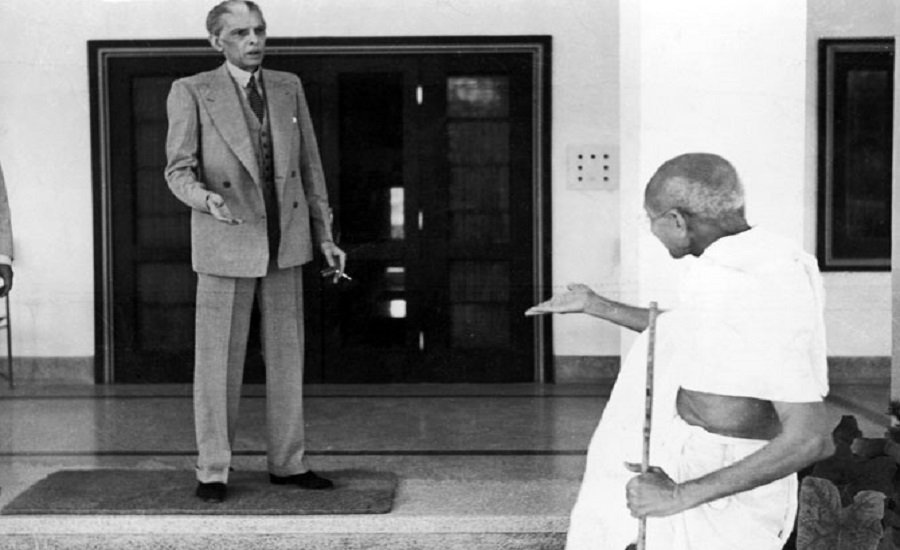 Using the Jinnah portrait as an issue, and by demonising AMU and consequently Indian Muslims, the politics of communal polarisation is sought to be played out ahead of the Kairana Lok Sabha by-poll and to sustain it till the next Lok Sabha election, says Mohammad Sajjad.
Mohammad Sajjad
SATISH Kumar Gautam — the Bharatiya Janata Party's Lok Sabha MP from Aligarh — appears to have developed a habit of poking his nose into Aligarh Muslim University affairs and raising issues which help in communal polarisation and demonisation of the university and India's Muslims.
Gautam had done so earlier too, within months of being elected in 2014.
In November that year, he circulated a falsehood that an alumnus of the MAO College (precursor to the AMU), Raja Mahendra Pratap, was the founder of AMU, and therefore his birthday should be celebrated by the AMU as founder's day.
The fact, as I clarified in an earlier column, is different.
This time round, Gautam has raised the latest issue reportedly in a letter to AMU, asking it to remove a portrait of Mohammed Ali Jinnah inside the Students Union Hall.
Just to be able to shout out that AMU and, by implication, India's Muslim minority, are unpatriotic and anti-national — the pet agenda of the majoritarian reactionaries.
On May 1, this issue was taken up by some television channels whose anchors, endorsing the divisive politics of the ruling party, were pouring out highly impassioned jingoistic views, hectoring all those panellists not toeing the saffron line.
Shunning journalistic ethics and objectivity, they were cornering the non-saffron panellists and were trying to foist a sense of guilt and shame on AMU.
The fact of the matter is: The AMU Students Union has a historical tradition of conferring honorary life membership to eminent individuals.
The first ever to receive the honour was Gandhiji, and in 1938, it was Jinnah.
Other recipients are Dr B R Ambedkar, Dr Rajendra Prasad, K M Munshi, Maulana Azad, Sir C V Raman, Jayaprakash Narayan, Mother Teresa, and many more. Portraits of the luminaries are hung inside the Students Union Hall.
On May 2, AMU alumnus, former diplomat and former vice president M Hamid Ansari was going to be conferred honorary life membership of the AMU Students Union, and the BJP probably intends to demonise and vilify this event.
A few days ago, they also demanded RSS shakhas on the campus.
A week ago, BJP MP Subramanian Swamy accused AMU of producing jihadis.
A by-election is about to be held in Kairana (Muzaffarnagar, which was engulfed in one of the worst incidents of communal violence and displacement in 2013).
The politics of communal polarisation is sought to be played out for this by-poll as well as sustaining it till the next Lok Sabha election.
The Hindu Yuva Vahini has threatened that if the AMU Students Union does not take down Jinnah's portrait it will take the law into its hands.
Without waiting for its deadline, some Hindu Yuva Vahini members rushed towards the AMU main gate on Wednesday, May 2, afternoon. They were handed over to the police, which freed them without lodging an FIR. AMU students protested against this and were lathi-charged by the police.
Let us not forget the historical backdrop before Jinnah was conferred this honour in 1938.
Till then, Jinnah was identified as the 'ambassador of Hindu-Muslim unity'. In Bombay, there exists the People's Jinnah Hall which was 'erected to honour the fearless leadership of Bombay's most inspiring ambassador of Hindu-Muslim unity' (Stanley Wolpert, Jinnah of Pakistan, 1985, page 60).
In November 1918, with the end of World War One, the tenure of the governor of Bombay, Lord Willingdon, was coming to an end and he was going to be given a huge farewell in the town hall.
Jinnah protested against it. People of all religions followed him, raised an amount of Rs 6,500 to build this hall now known as the P J Hall. It still exists as the 'historic triumph of the citizens of Bombay under the brave leadership of Jinnah,' writes Wolpert.
The argument/accusation that:
a. Post-Independence, the portrait should have been withdrawn is an argument which borders almost on vandalism.
That the AMU Students Union did not indulge in erasing history by taking off the portrait is something one should appreciate, also for the fact that Jinnah's portrait there reminds us about undivided India, representing both a tragedy as well as a promise of reconciliation between the two nations.
A reconciliation which is desperately needed to resist global capitalist imperialism forcing us to squander our funds on armed forces to fight each other, rather than investing in human resources and infrastructural development.
b. That this portrait testifies that he is being eulogised, or celebrated, or glorified, is again very silly, to say the least.
Let us not shy away from the fact that Jinnah alone was certainly not responsible for India's Partition.
The Hindutva ideology and its icons like V D Savarkar were equally responsible for Partition. Savarkar's portrait hangs in Parliament House.
Emboldened with the incumbent regime, some people have been eulogising divisive icons; they have even been taking out processions in favour of rapists.
I have not seen these specific television anchors pouring out their anger and outrage against such menace.
The miserable failures of the incumbent regime on all fronts including the economy, employment, are not an issue for prime-time news television discussions.
True, Jinnah harmed us grievously.
The Muslims of the subcontinent are today the biggest victims of the politics of separatism that was pursued and stoked more vigorously in the late colonial era. Forces like the RSS have been growing also because of such history.
But at the same time, let us also not forget that Jinnah was not the leader of all Muslims of the subcontinent. He was repudiated and resisted by many.
In fact, in the 1946 elections, votes for the Muslim League came only from a segment of the enfranchised ones. Only 11% of Muslims had franchise in 1946. 89% of Muslims could not vote. Even of this 11%, quite a lot voted against the Muslim League.
To sum up, portrait or no portrait inside a hall or in a picture gallery or in a museum, the historical fact that Jinnah was conferred life membership of the AMU Students Union, is something one cannot deny nor should it be erased.
Just as Jinnah's direct descendants, none of who migrated to Pakistan, cannot disown blood relations. Nusli Wadia cannot disown his late mother Dina Wadia for being Jinnah's only child.
Of course, by fixing guilt on the Muslims, a majoritarian reactionary consolidation for electoral gains may be achieved.
It is this very politics which is ruining India, rather than a portrait because of its history.
________________________________________________
Professor Mohammad Sajjad is at the Centre of Advanced Study in History, Aligarh Muslim University, and has published two books: Muslim Politics in Bihar: Changing Contours (Routledge 2014, reprint 2018); Contesting Colonialism and Separatism: Muslims of Muzaffarpur since 1857 (Primus 2014). 
(m.rediff.com)