The Saudi authorities did not name any group involved in the attack.
RIYADH (Agencies) — Saudi Security forces on Friday succeeded in thwarting an imminent terrorist act targeting the security of the Grand Mosque in the holy city of Makkah and worshippers by a group stationed in three locations, said the Interior Ministry.
The security spokesman explained that one of the sites was in the province of Jeddah, and the two others were in Makkah.
One site was a three-story house that contained the suicide bomber in charge of implementation. When the security men began to surround him, he fired at them, which required a response to him in order to neutralize his danger after refusing to respond to their calls to surrender.
He continued to shoot heavily before exploding himself, resulting in his death, the collapse of the building that he was in and the wounding of six expatriates who were taken to hospital, in addition to the injury of five security personnel with minor injuries.
The security spokesman said the security operation resulted in the arrest of five elements of the cell, including a woman, after raiding their positions.
The security authorities are still conducting their investigations, lifting the remaining evidence at the site of the explosion and verifying the identity of the suicide bomber.
The Interior Ministry confirmed that this terrorist network intended to violate the security of the Grand Mosque, the holiest place on Earth.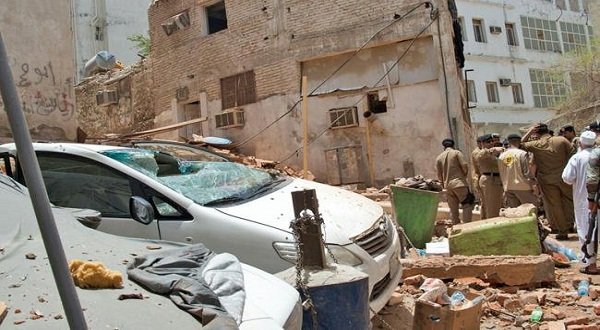 Saudi state television aired footage after the raid Friday near the Grand Mosque, showing police and rescue personnel running through the neighborhood's narrow streets.
The blast demolished the building, its walls crushing a parked car as what appeared to be shrapnel and bullet holes peppered nearby structures.
The Interior Ministry "confirms that this terrorist network, whose terrorist plan was thwarted, violated, in what they would have perpetrated, all sanctities by targeting the security of the Grand Mosque, the holiest place on Earth."
"They obeyed their evil and corrupt self-serving schemes managed from abroad whose aim is to destabilize the security and stability of this blessed country," the statement said.
Sources also confirmed that before the incident, security men, on Friday morning, had arrested a wanted criminal at a house in Al-Asilah neighborhood in east Makkah. The criminal led authorities to the location of the terrorist in Ajyad Al-Masafi neighborhood, behind Al-Safwa Hotel.
The ministry did not name the group involved in the attack.
The disrupted attack comes at a sensitive time in Saudi Arabia as King Salman earlier this week short-circuited the kingdom's succession by making his son, Defense Minister Mohammed bin Salman, first in line to the throne.
As the Interior Ministry announced the raid, over 1 million Muslim faithful prayed at the Prophet's Mosque in the holy city of Madinah to mark the end of Ramadan.