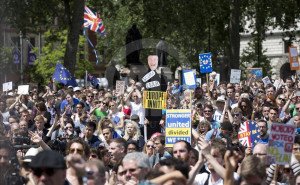 LONDON  (AA): Tens of thousands of anti-Brexit protestors took to the streets of London on Saturday for a "March for Europe" rally against the UK's referendum decision to leave the EU.
Demonstrators holding signs reading "We all need the EU" and "Brexit built on lies" gathered around Park Lane in central London in the morning.
Flying EU flags, protestors chanted "What do we want? The EU!" and "March for Europe" as they walked to Parliament Square, where a stage was erected for the speakers at the event. Some of the protestors painted their faces in blue with yellow stars, while others dressed in the colors of the EU flag.
Addressing the crowd outside Parliament, pop star and Remain campaigner Bob Geldof urged the youth to come out.
"You need to come out. For the young whose future was robbed by Farage and Gove and Johnson," he stated, referring to U.K. Independence Party leader Nigel Farage, Justice Secretary Michael Gove, and former London Mayor Boris Johnson, top Leave campaigners.
The historic referendum drew a line between the country's old and new generations, sowing unease among young voters. While nearly three-quarters of 18- to 24-year-olds voted to remain, a majority of those aged over 45 and pensioners voted to leave.
Liberal Democrat Party Leader Tim Farron, also speaking at the rally, said he had to explain to his children that "people older than them had chosen a path that would damage their future."
Police helicopters circled over the rally, which unofficial numbers say more than 50,000 protestors attended.
U.K. citizens voted to leave the EU in last Thursday's referendum, in which almost 52 percent of voters rejected their country's 43-year EU membership.