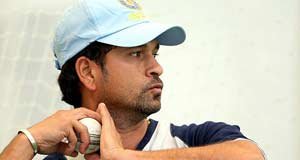 The pleasure the great player has provided to the fans the world over cannot be measured in compartmental terms of his batting style and the tons of runs he scored
By Veturi Srivatsa
Sachin Tendulkar is on the home stretch, playing his last two Test matches of an amazing career spanning almost a quarter century. Not many legends may have had the luxury of a farewell he is rightly receiving, though quite a few stalwarts like him chose their place and time to bow out of international cricket.
There is no better pastime than discussing the future of the game and the team whenever a great player quits. Mercifully, the question "who after Sachin" remains a murmur, not a hysterical wailing. Instead the talk is which of the youngsters in the Indian team is likely to get closer to some of Tendulkar's innumerable records, if ever they do.
The initial indication is that Virat Kohli can leave the great man behind in at least One-Day cricket, in the number of hundreds and aggregate much faster, but the rider is if the Delhi young man scores his runs at the frenetic pace he is getting now.
There is no talk on the opening slot in the One-Day format he vacated a year ago. Within no time the replacement was found, not one but two who have done a lot better than all Tendulkar and his partners did to start with at the top.
As for his No. 4 position in the Test batting order, Kohli should take it now, that Rahul Dravid's one-drop slot has been taken by Cheteshwar Pujara. So, technically, in both the forms of cricket the selectors have been able to find batsmen who will make him feel that the future of Indian cricket is in good hands as he walks off the ground one last time.
Is that all for Tendulkar? It would be naive to make things so simple. Tendulkar is much more than mere stroke play and statistics. The pleasure he has provided to the fans the world over cannot be measured in compartmental terms of his batting style and the tons of runs he scored.
Tendulkar is an impact player, not by his batting alone. If his presence in his dressing room created that confidence among his teammates, in the rival dressing room his very sight made them nervy. Look at the generations of players he has played with and how many of them still swear by his name for prolonging their careers by making course corrections thanks to tips he unselfishly offered them. That's a great quality in him.
There have been great teams that represented India after he made his debut and he was a constant factor in all of them. He named at least three teams as best he has played in over the years.
His first pat was for Azharuddin's 1992 team that outclassed the Australians under Mark Taylor. Then came a phase where he thought under Sourav Ganguly the team has blossomed and finally under Mahendra Singh Dhoni he thought he saw the best.
Tendulkar's own contribution to the rise of these teams was immense, and no wonder he has never feared of getting dropped on performance and he has never been kept out of the team on cricketing grounds. Not many cricketers can claim such invincibility.
He has plenty to offer to Indian cricket and some of his interviews have revealed an insight into his approach to keep Indian cricket flourishing. He has definite ideas about junior cricket and how to groom players. Some of his contemporaries have also talked on the subject, but somehow could not get the required push to implement them. The Indian board will do well to pick his brains and make the pipeline more effective.
The motto of the Indian team should be a remarkable quote of his: Every time India wins, individual delight wanes before the team's celebration. The line sums up his cricket philosophy and it should be highlighted in every Indian dressing room to inspire the future generations of cricketers.