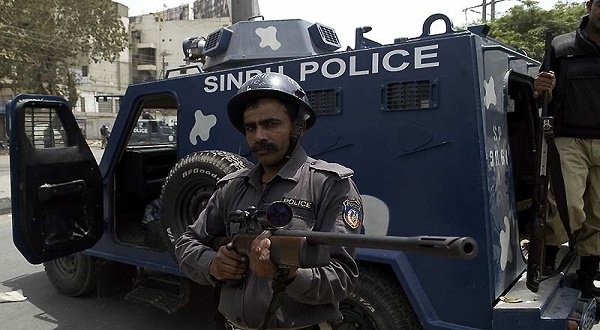 KARACHI — At least three policemen, including a deputy superintendent of police (DSP), were killed on Friday when armed men opened fire on their vehicle in Karachi's Gulshan-i-Hadeed area, reported Dawn newspaper.
Tehreek-i-Taliban Pakistan spokesperson Muhammad Khurasani claimed responsibility for the attack in an email sent to journalists.
Bullet holes in the windshield of the vehicle. ─ DawnNews screengrab
Police sources say Bin Qasim Deputy Superintendent Police (DSP) Fateh Mohammad Sangi was on a routine patrol with his driver, constable Farooq, and a guard, constable Nazeer, when motorcycle-riding gunmen opened fire on the vehicle they were travelling in, severely injuring the three men. The unidentified assailants fled after attacking the vehicle.
Interior of the attacked vehicle. ─ DawnNews screengrab
Police and emergency teams reached the spot, situated near Bacha Khan Chowk in Gulshan-i-Hadeed Phase-I area within the remit of Steel Town police station of Karachi.
The injured men were shifted to a nearby hospital where all three succumbed to their wounds during treatment.
Investigative teams recovered 22 bullet casings from the scene of the crime.
The DSP was the brother of former Director Inspector General (DIG) Sachal Sangi and was involved in recent operations carried out in the area, including one that was conducted in Gulshan-i-Hadeed by SSP Malir Rao Anwar.
Speaking to the press earlier today, Sindh Inspector General Ghulam Hyder Jamali had said: "We believe this attack to be an organised terrorist strategy, and we are investigating this in great depth."
He called the targeting of Fateh Mohammad Sangi "a terrorist attack" and said: "We are investigating the attack from different angles."
Karachi, the largest metropolitan city of Pakistan, is riddled with targeted killings, gang wars, kidnappings for ransom, extortion and terrorism.
PM Nawaz condemns DSP Fateh Muhammad's killing
PM Nawaz Sharif strongly condemned the murder of DSP Fateh Muhammad and three constables in the firing incident. He extended his condolences to the bereaved families of the deceased and asked for a thorough inquiry of the killings.
The premier further said resorting peace in Karachi is the topmost priority of the government and all steps necessary are being taken to ensure this soon.-Dawn.com