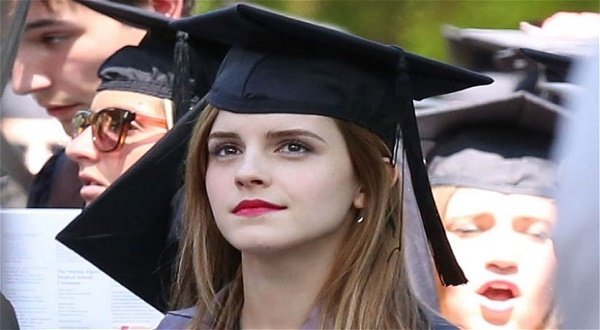 We often eulogize school dropouts who became entrepreneurs etc. for their achievements but seldom do we discuss such resolute men and women who put everything at stake to achieve educational excellence
TAHMINA LASKAR
[dropcap]N[/dropcap]elson Mandela had once said "Education is the most powerful weapon which you can use to change the world." This week the world saw two graduates emerge as soul sisters as far as the ideology imbibed in this quote is concerned. The story of Tay Thi Nguyen (a girl from Vietnam) was told by columnist Nicholas Kristoff in the New York Times while that of Emma Watson (actress who played Hermione Granger in Harry Potter movies) was the toast of many news reports and twitterati.
The fundamental parallel that can be drawn from both the stories is the fact that both are inspirational; although the struggle and challenges differ in both these stories but at the heart of such struggle was the desire and passion for education.
To quote Kristoff, "Three times Tay Thi has fainted while here at college, training to become an English teacher, because she starved herself to afford tuition. But she had the strength to persist and soon will become the first person in her village to graduate from college, and she embodies such grit and selflessness that, to me, she's the world's college graduate of the year."
While in the case of Emma Watson, the 24-year-old took five years to complete the course, which she began in 2009 at Brown, before dropping out to shoot the final Harry Potter film – "Harry Potter And The Deathly Hallows: Part 2″, in which she starred as the studious witch Hermione Granger. Then, having transferred to Oxford University for another go at it in 2011, she was cast in "The Perks of Being a Wallflower" and put her studies on hold once more."
Watson revealed that once she began attending the prestigious Ivy League university in Rhode Island, many people told her it would be impossible to graduate: "So many people told me it wasn't possible. I kept saying, 'I don't care.' This is what I want. And graduating will, for me, be really symbolic of all of that."
It was the strong resolve for achievement that had kept both these girls going. Tay Thi is just as passionate about education of others, she made her elder brother return to school so that he can become a mechanic; a resolute young woman, she now is thrilled at the prospect of returning to an impoverished farming village to teach children and change the world while Emma Watson may take it forward in a different way. But one thing that is really encouraging is the way these girls fought for their deep desire to learn.
We often eulogize school dropouts who became entrepreneurs etc. for their achievements but seldom do we discuss such resolute men and women who put everything at stake to achieve educational excellence.
It is true that degrees are mere pieces of paper but such stories put back our faith in education, these people (many unsung heroes) will transform degrees into education which in turn will transform the world for better. Tay Thi and Emma Watson may not have met each other but they do share an invisible and soulful bond.
All opinions and views expressed in columns and blogs are those of individual writers and do not necessarily reflect the editorial policy of Caravan