Emma Gatten | Independent
A quarter of a million children are at risk of starvation in "open-air prisons" in besieged Syria despite the truce, Save the Children has said, as peace talks scheduled to resume on Wednesday looked shaky.
Some 486,700 people in 18 different areas across Syria are under siege by either government or opposition forces, according to the UN, with no movement of food, medicines or fuel in or out. Some aid agencies say the true number may be up to 1.9 million.
There were hopes that the current cessation of hostilities, which came into force on 27 February, would be a turning point, enabling aid organisations to access besieged areas. A handful of aid convoys have since reached 150,000 people, but charities and residents say deliveries have been patchy.
"Aid has reached some areas, but deliveries are piecemeal and inconsistent," Save the Children's CEO, Tanya Steele, said. "To have children going hungry and sick just a short drive from warehouses of food is appalling and it's time we ended this shameful situation."
Access is granted to each convoy individually, and they are only able to take enough supplies to last a few weeks, with no guarantee of when the next delivery will be made.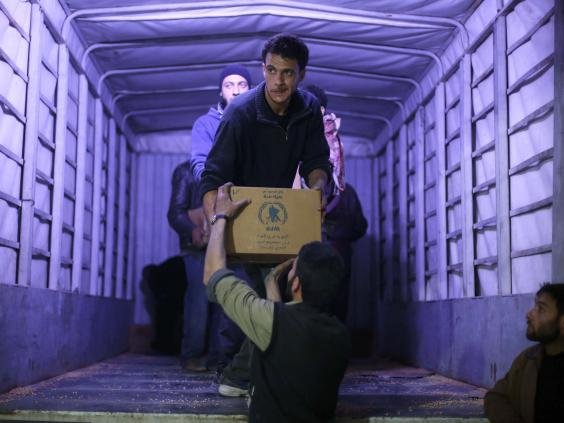 In a report released on Wednesday, a third of 126 residents interviewed by Save the Children say they often go without a single meal a day, and a quarter have seen children in their towns dying because of lack of food. The report paints a stark picture of the cruelties of living under siege – in Moadamiyeh, just a few miles from the capital Damascus, three newborn babies died after medical staff ran out of IV bags.
"A relative's infant son died from malnutrition because of the lack of formula and food for children," Um Tarek, a mother in the village of Misraba, in the suburbs of Damascus, told Save the Children. "His mother wasn't able to breastfeed him because she was in such poor health."
Abdul Wahab Ahmed, a civil society activist in Madaya, which has been under government siege since July, told The Independent that more than 300 children in the town were currently suffering symptoms of severe malnutrition. Images on Twitter showed children and infants with distended stomachs.
An eight-year-old boy died from lack of food on 27 February – the day the truce officially took hold – Mr Ahmed added. He said the two aid deliveries that had been made had been vital, but insufficient. Before the latest delivery, a kilogram of rice in the city was selling for $230 (£160). Aid agencies say that unless there is a more permanent end to the violence in Syria – soon to enter its sixth year – there is little hope of seeing an end to the use of siege as a tactic by both sides.
Official peace talks were scheduled to begin on Wednesday, but the High Negotiations Committee, the umbrella body of the mainstream Syrian opposition, has still not confirmed whether it would attend. UN envoy Staffan de Mistura was adamant that initial talks would take place, saying he would be holding "substantive" talks between government and the opposition by next Monday.
The pause in fighting has given many Syrians a brief respite from the relentless violence, but the British-based Syrian Observatory for Human Rights reported that fighting had killed over 40 civilians in the past two days, more than in the previous eight days of the truce combined. Meanwhile three rockets fired from Syria landed on the Turkish border city of Kilis, killing a four-year-old boy and one other person. Turkey responded by firing at Isis targets in Syria.
Initial peace talks planned by Mr de Mistura collapsed in early February, after the start of a Russian-backed government offensive on Aleppo. There are now fears the city may soon face siege tactics like those seen across the rest of Syria. "We are extremely concerned about the situation in Aleppo," said Ashley Proud, of Mercy Corps. "There are around 300,000 people there at risk of becoming trapped… They have limited options for flight."