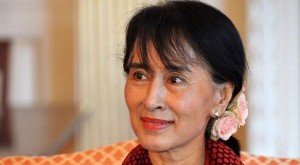 BRUSSELS (IANS) — Visiting Myanmar State Counsellor Aung San Suu Kyi has snubbed a UN resolution backed by the European Union recommending an international probe into the situation in Rakhine state of the Southeast Asian nation.
Suu Kyi said on Tuesday that the resolution was not "in keeping with what is actually happening on the ground", Xinhua news agency reported.
"If we think the recommendations are in keeping with the real needs of the region, we would be happy to accept them," she told media after a meeting with EU Foreign Policy Chief Federica Mogherini here.
Suu Kyi reaffirmed that Myanmar will not accept "those recommendations which will divide further the two communities", referring to the chronic tension between Rakhine's Buddhist majority and Muslim minority.
"Because it will not help us resolve the problems that are arising all the time," she noted.
Speaking to the media alongside Suu Kyi, Mogherini said the resolution was "one of the very few issues of disagreement" between Myanmar and the EU, but argued that dispatching an independent international fact-finding mission "can contribute towards establishing the facts for the past".
Downplaying the bickering, Mogherini observed that the two sides agreed on the need to "focus on the future and the implementation of the recommendations included in the (former UN Secretary General Kofi) Annan report assessments".
The Myanmar government's Advisory Commission on Rakhine State, chaired by Annan, on March 16 submitted an interim report and recommendations on the regional issue to the government.
The commission, formed in August, proposed measures to address the situation in Rakhine, including an unimpeded access for humanitarian actors and journalists to the affected areas.
The commission also called for an independent and impartial investigation into the allegations of crimes committed since October 9.
The UN Human Rights Council (HRC) on March 24 adopted an EU-tabled resolution to send a fact-finding mission to Myanmar to probe alleged human rights abuse by security forces against Muslims in Rakhine.
A number of HRC member-countries have dissociated themselves from the resolution or voiced their opposition to the establishment of such a mission.
In response to the armed attacks on police border outposts in October and subsequent allegations of human rights abuse, the Myanmar government formed an investigation commission led by Vice President U Myint Swe to look into the cause of those incidents.