He was suspended following the death of some 60 children in the BRD Medical College, Gorakhpur due to disruption in oxygen supply
Mohd Aasif | Clarion India
NEW DELHI — Dr. Kafeel Khan, an Uttar Pradesh paediatrician who has been suspended for alleged medical negligence since August 2017, has demanded immediate revocation of his suspension from the Baba Raghav Das (BRD) Medical College in Gorakhpur, allow him to work as a corona warrior during the raging pandemic.
Addressing a press conference at the Press Club of India in Delhi on Monday, he said that he continued to remain suspended even after 1,200 days though the Supreme Court of India had ruled that suspension should not be for more than 90 days.
Dr Khan was suspended in August 2017 following the death of some 60 children in the BRD Medical College due to disruption in oxygen supply.
He was served the suspension notice twice, first on August 22 and the second time after the Inquiry Committee submitted its report on 31y 2019, though there was no reinstatement in between.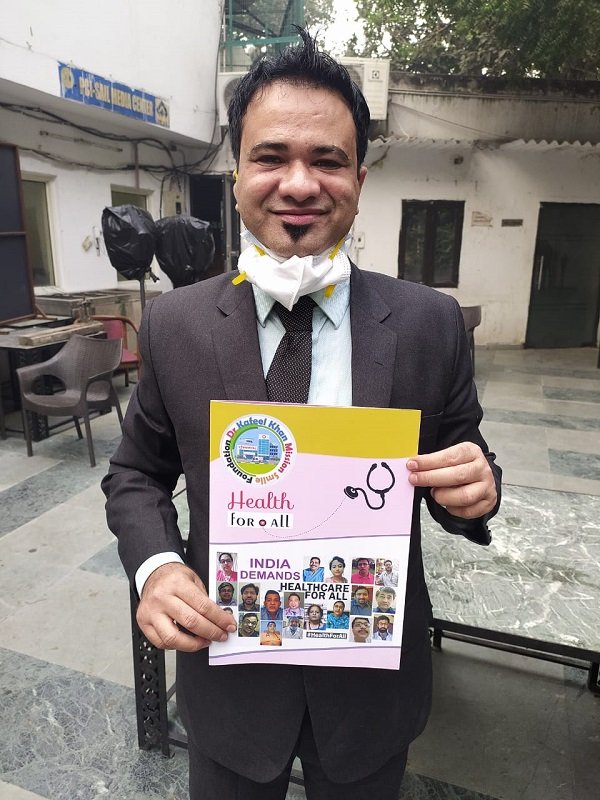 Dr. Khan, who feels happy while discharging his medical duties and trying to save lives of patients, said, "The UP government did not pay the commission amount requested by the oxygen supplier that led to its shortage and I became the scapegoat."
Willing to provide his services to the government and people at large during the pandemic, he has written more than 25 letters to the authorities, including the Indian Medical Association, urging them to revoke his suspension.
The Progressive Medicos and Scientists Forum (PMSF) has dashed off a letter to UP CM Yogi Adityanath, demanding that Dr Khan's suspension be revoked immediately specifically because of the coronavirus pandemic and extreme shortage of doctors, so that he could work as a corona warrior, according to Dr. Harijit Singh Bhatti, National President, PMSF.
In January 2020, Dr. Khan was arrested by the UP Police from the Mumbai airport while he was on his way to address a gathering in the megacity, on the charge of delivering a fiery speech at the Aligarh Muslim University in December 2019 and for provoking communal sentiments.  He was released on 1 September from Mathura Jail.
Till 18 April 2019, nine inquiry commissions have submitted their reports to the government clearing Dr Khan's name and the Allahabad High Court has also given a clean chit to him on the charges of medical negligence and corruption. However, he said that all the other doctors who were suspended with him had been reinstated.
Shockingly, the UP government has now set up a new inquiry on him for violating the civil service code by allegedly speaking against the government despite being its employee.
During his suspension, Dr. Kafeel Khan has been tirelessly working towards the campaign #HealthForAll in order to make health services a fundamental right.