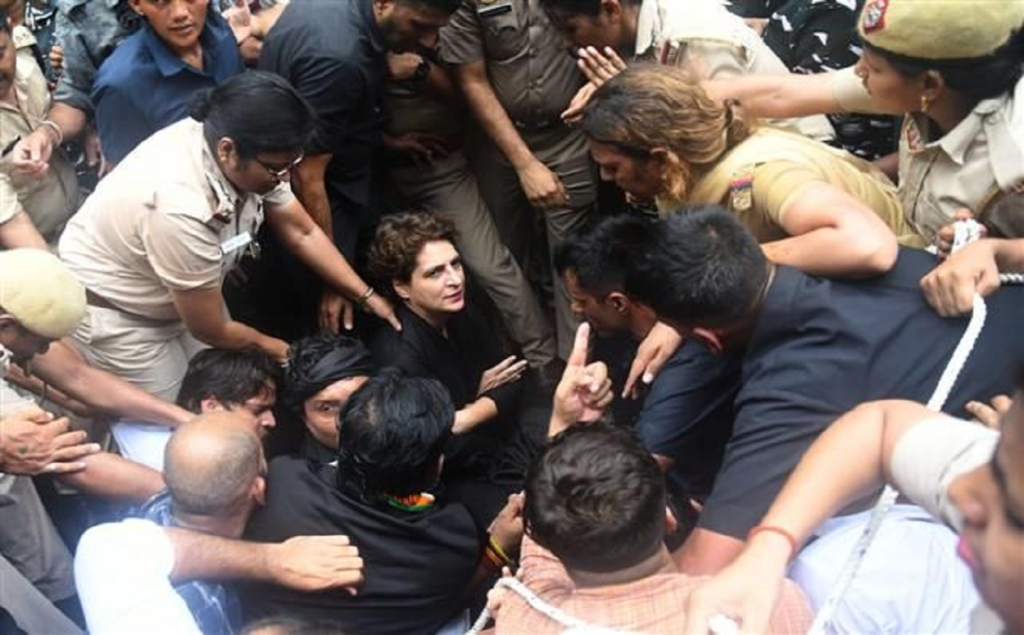 Clarion India
NEW DELHI – Police detained Priyanka Gandhi Vadra by dragging her into police vehicles along with other senior Congress leader from outside the party headquarters in Delhi on Friday as they were protesting against unemployment and price-rise.
Dressed in black like other party leaders as a mark of protest, Priyanka climbed over barricades to reach the spot. She held a brief sit-in before being forcibly taken away by cops after being denied permission for the protest, citing law and order.
 Congress MP Rahul Gandhi, was also detained a little while before she was. The leaders were restricted to a hall in Kingsway Camp in GTB Nagar.
In a video tweeted by the party — apparently while going towards the party office — Priyanka Gandhi says, "The government thinks it can silence us. It thinks that by showing us this (police) force, it can make us quietly sit in buses… But we have a purpose."  
Before pulling Priyanka Gandhi into a vehicle, police were seen asking her to end the protest. But she refused to move, gesturing to cops that she has a right to protest. 
Police had barricaded key areas to disallow the protest plan, which included marches to the Prime Minister's house and Rashtrapati Bhavan. Prohibitory orders, banning large gatherings in parts of Delhi ahead of the Congress march, had already been announced by the administration. Citing these restrictions, police had denied permission for the protest.
Ahead of the protest, Rahul Gandhi said, "We're witnessing the death of democracy."
"What India has built brick by brick, starting almost a century ago, is being destroyed in front of your eyes. Anybody who stands against this idea of onset of dictatorship is viciously attacked, jailed, arrested and beaten up," he said.
The BJP retorted with a jibe, asking if there's democracy within the Congress, calling it a "dynastic" party.
Before starting the protest, Congress MPs led by party chief Sonia Gandhi and Rahul Gandhi wore black clothes to Parliament. Proceedings were adjourned as Congress members created an uproar over the alleged misuse of probe agencies and the government "ignoring people's issues".
A statement from the party said its Lok Sabha and Rajya Sabha members would hold a "Chalo Rashtrapati Bhavan" march from Parliament. Congress Working Committee (CWC) members and other senior leaders planned to take part in "PM House gherao".
The Congress has been alleging the "people's issues" are being ignored. The government, however, has said the situation isn't particularly bad.