The demonstrators accused the BJP-led state government of working to 'marginalise, alienate and disenfranchise the Muslim population in the state'
Team Clarion
NEW DELHI – A group of students on Tuesday held a demonstration at Jamia Millia Islamia to register their protest against the gruesome killing of two Muslims in Darrang district of Assam by the state police. The demonstration was organised by the Students Islamic Organisation of India (SIO) and supported by other groups.
The demonstrators raised slogans against fascist forces and demanded swift action against the police personnel involved in violent attacks on the Muslims displaced from their homes.
"The cold-blooded killing of two Muslims, and the desecration of one of the deceased's bodies, shows the cruel and communal face of the fascist Hindutva state. The targetted witch hunt of minorities, especially Muslims, by the state and the encouragement given to 'fringe' and vigilante groups by state agencies, marks a disturbing slide in the security situation in Assam, said National Secretary of SIO Ramees Ek.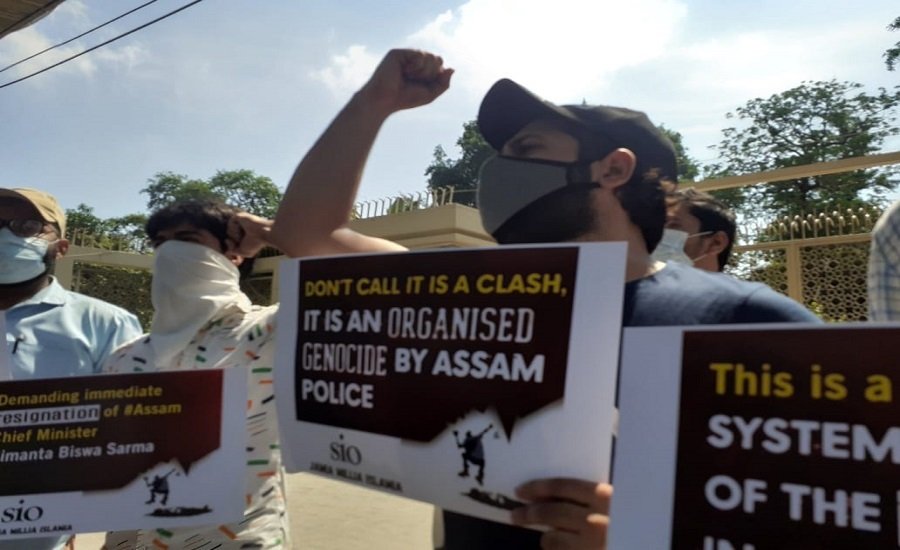 He added, "The Himanta Biswa Sarma administration is using every trick in the book to systematically marginalise, alienate and disenfranchise the Muslim population in the state. In the process, it appears successful in polarising a large section of the society, including the police force."
Ever since the BJP came to power in Assam, Ramees Ek said, the party has started eviction of thousands of people in areas dominated by those from the minority community. The 800 families evicted last week in Darrang district urgently need food, shelter and legal assistance. Instead, the state has unleashed terror on them, killing two and injuring several others.
"It's the legal and moral responsibility of the state government to rehabilitate displaced families in Darrang district and elsewhere. The United Nations has recognised protection against forced evictions and the arbitrary destruction and demolition of one's home as an important human right. The Supreme Court of India, in several judgements, has also held that adequate housing is a fundamental right emanating from the right to life protected by the Constitution," said SIO Jamia Unit Secretary Sheikh Galib.
The protest has demanded that the state government must ensure that justice is delivered to the victims by punishing the concerned officials and police officers behind such a cruel attack. The SIO also demanded that the report of the judicial enquiry be made public as soon as possible and compensation of Rs 1 Crore each to the families of the two deceased and Rs 50 lakh each to the seriously injured is paid.