There are approximately 18,000 Rohingyas camping in ghettos in Delhi, Jammu, Hyderabad, Haryana and Rajasthan, according to NGOs' estimate
Zafar Aafaq | Clarion India
NEW DELHI – Among the communities and groups badly affected by the Coronavirus are Rohingya refugees living in camps across many towns and cities. They are going through hard times not just in India but also in other countries where they live as refugees in this hour of global health crises.
In India, since almost all the refugees from the community are solely dependent on daily wages to feed themselves and their families, loss of income due to countrywide lockdown has put  a question mark on their very survival.
Families whose bread winners are rag-pickers, rickshaw pullers and daily labourers are the most vulnerable.
Moreover, the physically challenged, those with long term health issues and orphans, who are dependent on charity, are the most vulnerable to hunger.
According to the estimates of NGOs, there are approximately 18,000 Rohingyas camping in ghettos in Delhi, Jammu, Hyderabad, Haryana and Rajasthan.
While other groups have received some sort of assistance from several groups as well as the government, the Rohingyas have largely remained untouched. However, a couple of groups which work for the rights of Rohingyas have come forward to help them.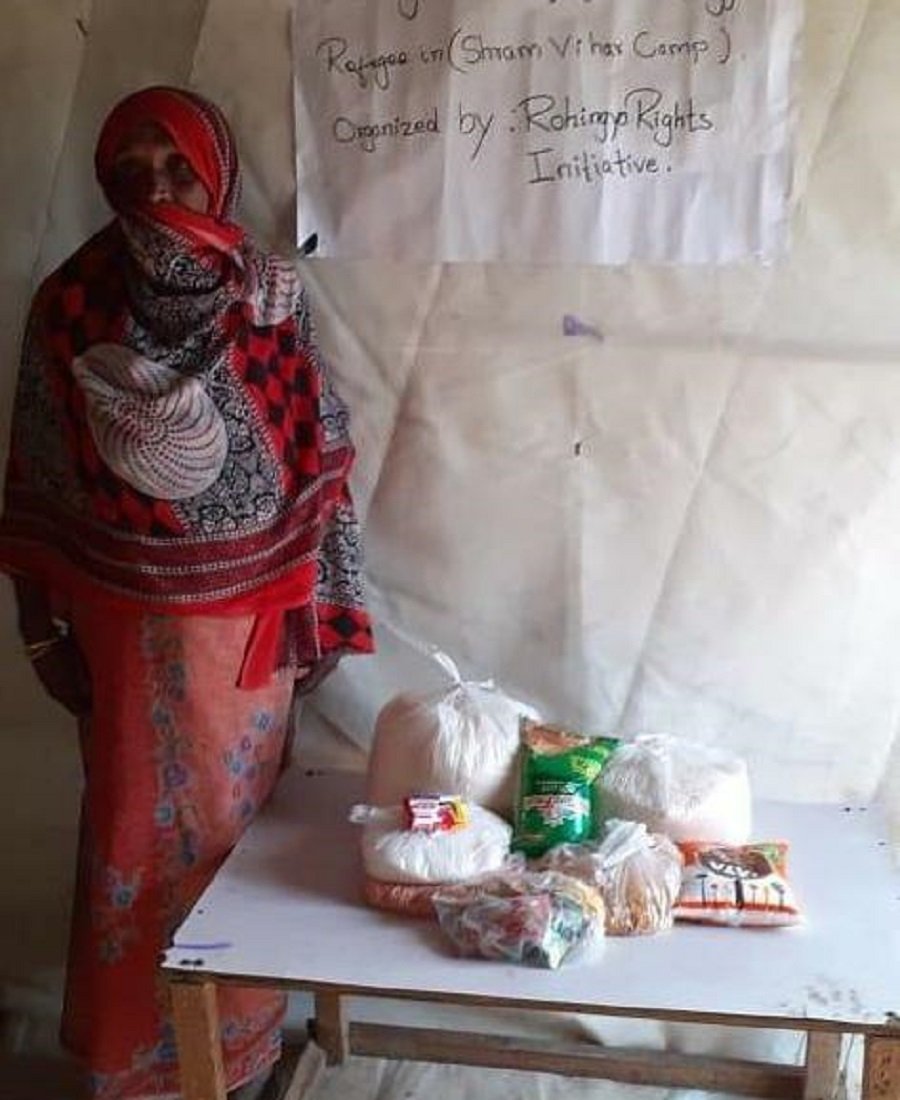 One among them called 'Rohingya Human Rights Initiative' has reached out to the Rohingya refugees and local families staying with the refugees across India with ration/food items and sanitation kits. A statement from the group said, "We want to make sure no one is left to die of hunger in this situation and everyone has access to minimum facilities to stay safe."
The group has prepared packages of rice, atta, lentils, oil, salt, spices, soap, biscuits and other basic necessities of 10 days for each family. Each pack costs the group Rs 1,000, the statement added.
Rohingya refugees have been left undocumented and do not even have refugee and wage protection. They do not possess the ration cards to lay claim for government relief.
In India, Rohingyas have always felt vulnerable to xenophobic attacks. The majoritarian government has always deemed them to be potential terror threats while the public opinion remained largely unfavorable.
The activists now fear that the community may be the next target of mob violence. Dr Rushda Siddiqui, a research scholar who has worked on Rohingya, said that it is just a matter of time before they face targeted attacks. She said that they don't live at one single place and can't have protection from media attention.
Dr Rushda said, "If coronavirus spreads among the Rohingya refugees, the media won't hesitate to call it a Rohingya bomb just as they have been labelling the Tablighi bomb."
The other group which has intervened to help the Rohingya refugees is New Trade Union Initiative. It is assisting the refugees in Khajuri Khas area since February when the Delhi riots took place.
Towards the end of March when Coronavirus lockdown was announced by the government the union started conducting relief work in other refugee camps in the city.
Speaking to Clarion India, Shakti, its secretary, said that the union had reached out to over 1,500 refugees and provided packs of dry ration to the Rohingya families. "It is a standard packet for a family of six." The volunteers also gave sanitary pads and diapers were needed.
Like Dr Siddiqui, Shakti also thinks that Rohingya refugees in India live under perpetual threat of being evicted and attacked.
He says that the need for relief work among the refugees is of urgent nature because "unlike most migrant workers they can't go to the government to demand anything and they know that".
"There is utter hopelessness," he says, "even if the government rolls out a scheme they know it won't reach them."
The Rohingyas Human Rights Initiative have so far been able to provide ration to nearly five hundred families. But the volunteers say that they have to reach out to around 5000 more families.
They are running short of relief material and money. They seek support from the general public to reach out to all the remaining families of Rohingyas living in different states.