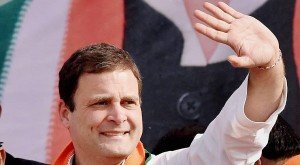 NEW DELHI — Congress leader Rahul Gandhi on Friday dismissed exit poll projections of a good showing by the BJP in Uttar Pradesh and said the Congress-Samajwadi combine will come to power.
"Congress-Samajwadi Party alliance is coming to power in Uttar Pradesh. I had seen the exit polls in Bihar (too)," Gandhi told the media.
Most exit polls had predicted a close contest between the Grand Alliance of the Janata Dal-U-RJD-Congress and the BJP in the 2015 Bihar assembly election. But the Grand Alliance registered a huge victory.
The counting of votes for assembly polls held in five states including Uttar Pradesh will take place tomorrow.
SP general secretary Ram Gopal Yadav, however, maintained that Akhilesh will get a second consecutive term as the state's chief minister.
"The exit polls were influenced. Money spoke on March 9 (when the exit poll results were put out by news channels).
People will speak on March 11," he said, reiterating that the SP-Congress combine will get around 240 seats.
Uttar Pradesh Congress Committee chief Raj Babbar also played down the exit poll results.
Babbar also defended Akhilesh for extending an olive branch to the BSP, saying it is a "vision and not desperation of a young leader".
"We are going to form the next government," he added.
Meanwhile, CPI(M) general secretary Sitaram Yechury questioned that authenticity of the surveys.
BJP also claimed they would get a "two-third majority" in the 403-member Uttar Pradesh assembly. — Agencies