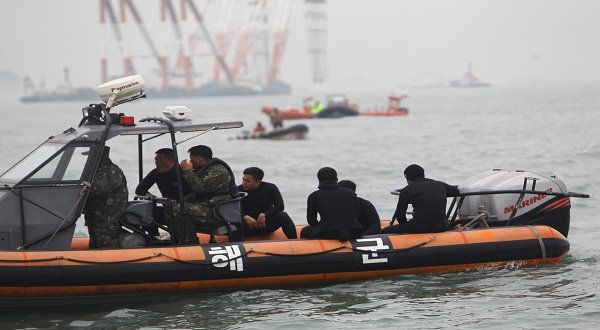 SEOUL —
 The death toll in the South Korean ferry disaster has risen to 33 with the discovery of four more bodies on Saturday, the Coast Guard said.
The body of a woman passenger in a life jacket was found in the waters around 100 metres from the accident site off Jindo Island near the southwestern tip of South Korea. The details of the other three bodies were not immediately available, Xinhua cited the South Korea Coast Guard as saying.
The 6,825-tonne passenger ferry, 'Sewol', which departed from South Korea's western port city of Incheon Tuesday night for the southern resort island of Jeju, capsized Wednesday.
Of the 476 passengers on board, 270 are still missing.
Among the passengers were 325 high school students and 15 teachers on their way for a four-day field trip.
Among those rescued are 75 students from the Danwon High School in Ansan, a Seoul suburb.
Eleven students have been confirmed dead, with 239 still missing.
Vice Principal Commits Suicide
Meanwhile the vice-principal of a South Korean high school who accompanied students on the ferry that capsized committed suicide Friday. Kang Min-gyu, 52, hanged himself with his belt from a tree outside a gym in the port city of Jindo where relatives of those missing, mostly children from the school, were gathered, Shanghai Daily reported.
Kang did not leave a suicide note and the authorities had started looking for him after he was reported missing by a fellow teacher, the police said.
A total of 179 people were rescued.
Three large salvage ships arrived at the scene Friday morning to pull the ship out of the water.
It is expected to take over a month to salvage the submerged vessel.
Divers scouring the area saw the bodies inside a cabin and tried to break open the door to retrieve them, but they failed due to limited time and floating obstacles.
No sound has yet been heard from inside the hull.
The third and fourth floors are composed of passenger cabins, where most of the possible survivors may be trapped. There are freight compartments on the second floor and a dining room on the first floor.
Divers succeeded in reaching the first and second floors Friday.
Around 87 passengers stayed at the cabins on the third floor, while 353 were accommodated on the fourth floor and seven on the fifth floor.
To aid the search and rescue operations, 192 ships and 31 airplanes were deployed at the accident site Saturday, and divers cleared the passage within the hull to place three guidelines, along which they will follow to rescue possible survivors in the chilly and murky waters. –IANS