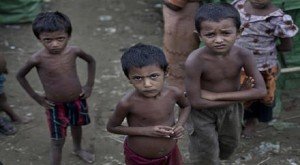 Fawad Maqsood
UNITED NATIONS (APP): A United Nations rights experts has issued a strongly worded statement accusing the Myanmar government of policies reminiscent of the previous military government, and of presiding over a worsening security and human rights situation.
Yanghee Lee, ending a 12-day visit to the country, listed a catalogue of concerns including reports of killings, torture, the use of human shields by security forces, deaths in custody and an ongoing humanitarian crisis for the Rohingya Muslims and other minorities forced from their homes.
Her own movements had been severely restricted, she added, and access to crisis-hit areas remained off-limits even to international organizations. People who met her faced harassment, and the Government had sought to place unprecedented pre-conditions on her visit.
I am disappointed to see the tactics applied by the previous Government still being used, said Ms. Lee, who wrapped up her visit on 21 July.
We are told not to expect Myanmar to transition into a democracy overnight that it needs time and space, she continued.
But in the same way, Myanmar should not expect to have its close scrutiny removed or its special monitoring mechanisms dismantled overnight.
This cannot happen until there is real and discernible progress on human rights.
The expert also raised concern about the situation of the Rohingya people, and said that state protection and security extend not only to the Rakhine but also the Muslim communities.
In Kachin and Rakhine states, some 100,000 and 120,000 people, respectively, have remained displaced for more than five years following the eruption of inter-communal conflict between Buddhists and minority Muslim Rohingya.
Ms. Lee said she was particularly dismayed to learn that the situation in northern Shan State was deteriorating, with reports of more conflict, alleged rights violations by security forces and armed groups, and inadequate assistance for civilians.
There have been numerous reports of killings, torture, even the use of human shields by the armed forces, allegedly in some cases accompanied by threats of further violence if incidents are reported, Ms. Lee said.
The expert, who visited Yangon and Nay Pyi Taw as well as parts of Rakhine, Shan and Kayin States, said she had been astonished at Government attempts to limit her activities and movements. The Special Rapporteur also highlighted the confiscation of land to create so-called Special Economic Zones, where land has been confiscated but some farmers still have to pay tax on it.