The AAP is staging nationwide protests against Sisodia's arrest by the CBI in the liquor policy case.
NEW DELHI — The Aam Aadmi Party (AAP) on Monday held protests across the country after Delhi's Deputy Chief Minister Manish Sisodia was arrested by CBI in connection with the alleged corruption in the now-scrapped excise policy.
Protests are being staged in Chandigarh, Delhi, Bhopal, Bengaluru and other cities amid heavy police deployment.
Since morning, several AAP workers and leaders had gathered at AAP headquarters in Delhi even as police erected barricades on several roads leading to DDU Marg where both the BJP headquarters and the AAP office are located.
The Rapid Action Force and CRPF with riot gear have also been deployed in the area.
Delhi Police detained several AAP workers protesting near the BJP headquarters here against Deputy Chief Minister Manish Sisodia's arrest a day ago.
The detained workers, including women, were taken to the North district in two buses.
Meanwhile, a clash also broke out between AAP workers and the police near the BJP headquarters, but no one was injured.
Traffic chaos was witnessed near ITO and other nearby areas after the Delhi Police on Monday closed the Deen Dayal Upadhyay (DDU) Marg for vehicular movement in the wake of a protest staged by the Aam Aadmi Party (AAP).
There is heavy deployment of Rapid Action Force and police personnel outside both the BJP and AAP headquarters on DDU Marg.
AAP national convenor and Delhi Chief Minister Arvind Kejriwal on Monday claimed that most of the CBI officers were opposed to arresting his deputy Manish Sisodia but did so due to political pressure.
"I am told that most CBI officers were against Manish's arrest. All of them have huge respect for him and there is no evidence against him. But the political pressure was so high that they had to obey their political masters," Kejriwal said in a tweet.
Meanwhile, the AAP spokesperson, Saurabh Bhardwaj said that the long detention of its leaders was illegal and drew a parallel between former prime minister Indira Gandhi's emergency era and the present.
The Delhi Police on Sunday detained 36 AAP leaders, including Sanjay Singh (Rajya Sabha MP), Gopal Rai (MLA and Delhi Minister), Rohit Kumar Mehraulia (Trilokpuri MLA) and Dinesh Mohnia (Sangam Vihar MLA), for violating the provisions section 144 CrPC imposed in South District.
"They were detained at around 12.40 p.m. on Sunday from Lodhi Road near CGO picket and taken to the Fatehpur Beri police station," said a senior police official, adding that they were released on Monday noon.
In Punjab, Aam Aadmi Party (AAP) leaders held a protest outside the BJP headquarters in Chandigarh against the 'unconstitutional' arrest of senior Aam Aadmi Party (AAP) leader and Delhi's Deputy Chief Minister Manish Sisodia.
Hundreds of AAP leaders and workers, including Punjab government ministers Harpal Singh Cheema, Anmol Gagan Mann, Lalchand Kataruchak, Brahm Shankar Jimpa, among others, participated in the protest.
They raised slogans against Prime Minister Narendra Modi-led Central government. AAP leaders called the arrest of Sisodia a dictatorial decision and dubbed the action as a threat to democracy.
In Bengaluru, Karnataka, the Aam Aadmi Party (AAP) workers on Monday staged a protest against the arrest of Delhi Deputy Chief Minister Manish Sisodia before the BJP office and shouted slogans against the Central government.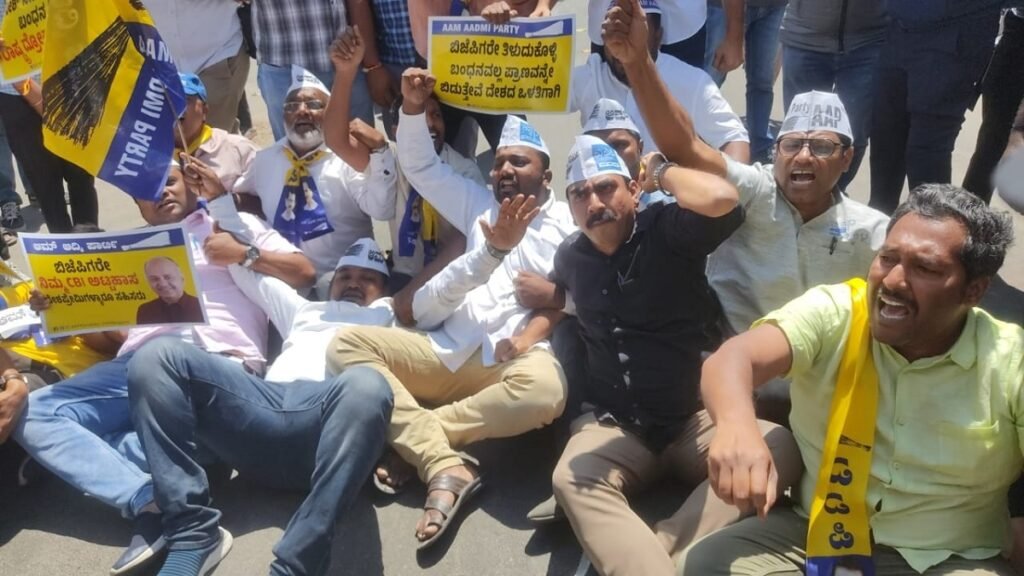 Addressing the media here during the protest, Karnataka AAP president Prithvi Reddy said, "The BJP leaders tried to divide the Delhi AAP and merge it with the BJP. But this attempt failed due to the commitment of AAP leaders."
"Frustrated by this, the BJP is using its power to harass AAP leaders. There is nothing wrong with Delhi's excise policy. The new excise policy is yet to be implemented in Delhi and the same policy is in force in many states. However, it is condemnable that the Central government is targeting Sisodia," Reddy added.
"Although Central government investigators have been targeting Sisodia for nearly a year, not a shred of evidence has been found to substantiate the allegations. No cash or any illegal documents have been found."
Meanwhile, Kerala Chief Minister Pinarayi Vijayan on Monday condemned the arrest of Delhi Deputy Chief Minister Manish Sisodia in the liquor policy case.
Taking to Twitter, he said, "The arrest of @msisodia by CBI is another example of how @BJP4India misuses the Union Government's agencies to intimidate the opposition. It's a blatant abuse of power and an attack on democracy. Such repression undermines the very foundation of our nation and should be resisted." — IANS (Inputs added)
_______________
Cover photo: AAP supporters stage a protest against the arrest of party leader and Deputy Chief Minister Manish Sisodia at BJP HQ in New Delhi on Monday. — IANS