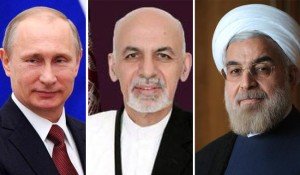 KABUL (AFP): Allegations over Russia and Iran´s deepening ties with the Taliban have ignited concerns of a renewed "Great Game" of proxy warfare in Afghanistan that could undermine US-backed troops and push the country deeper into turmoil.
Moscow and Tehran insist their contact with insurgents is aimed at promoting regional security, but local and US officials who are already frustrated with Pakistan´s perceived double-dealing in Afghanistan have expressed bitter scepticism.
Washington´s long-time nemesis Iran is accused of covertly aiding the Taliban, and Russia is back to what observers call Cold War shenanigans to derail US gains at a time when uncertainty reigns over President-elect Donald Trump´s Afghanistan policy.
"(Russia´s) narrative goes something like this: that the Taliban are the ones fighting Daesh," top US commander in Afghanistan John Nicholson said recently, denouncing the "malign influence" of external powers.
"This public legitimacy that Russia lends to the Taliban is not based on fact, but it is used as a way to essentially undermine the Afghan government and the NATO effort and bolster the belligerents.
"Shifting to Iran, you have a similar situation. There have been linkages between the Iranians and the Taliban."
Russia has officially provided military helicopters for Afghan forces, but simultaneously propped up the Taliban with arms, official and insurgent sources say.
"We are particularly concerned about loads of Russian-made weapons recently seized from areas on the border with Tajikistan," a senior Afghan security official told AFP.
"Cross-border support for the Taliban will further complicate the security situation in Afghanistan´s north."
A Taliban commander told AFP the Russian support had helped the insurgents overrun the northern city of Kunduz in October for the second time in a year.
Taliban representatives in recent months have also held several meetings with Russian officials in Tajikistan and Moscow, sources say.
"No country should be in touch with destructive groups who are the enemies of Afghanistan. This shows disrespect towards the victims of war," interior ministry spokesman Sediq Siddiqi told AFP.
"We ask Russia and Iran to work with Afghans to defeat terrorism."
– ´Great fear´ –
Western diplomats in Kabul have privately voiced alarm that Russia is quietly filling its embassy ranks with Soviet era "old-timers" well versed in Cold War tactics, as relations with Washington turn sour over the conflicts in Syria and Ukraine.
And this week Kabul vented fury over a summit between Russia, China and Pakistan in Moscow which agreed on a "flexible approach" to remove certain Taliban figures from sanctions lists.
Alexander Mantytskiy, Russia´s ambassador to Kabul, insists engagement with the insurgents is benign.
"We have ties with the Taliban to ensure the security of our political offices, consulates and the security of central Asia," he told reporters this month.
Lashing out at NATO, he added the allegations against Russia were an effort to distract attention from the worsening conflict and "put the blame for their failures on our shoulders".
Some observers agree that Russian and Iranian concerns over Daesh jihadists cannot be dismissed lightly.
"Dawsh may not have a deep presence in Afghanistan, but it has developed a profile there and its overall brand inspires great fear," Michael Kugelman, an analyst at the Woodrow Wilson Center in Washington, told AFP.
"We can´t rule out the possibility that Russia and Iran are trying to hedge against the future possibility of a stronger Daesh in Afghanistan by expanding their ties to the Taliban."
– Playground for superpowers –
Afghanistan has long been used as a chessboard for proxy battles — from the 19th century "Great Game" of rivalry between Britain and Russia to the US funnelling weapons through Pakistan to Afghan rebels fighting Soviet forces in the 1980s.
It has also served as a proxy war playground for nuclear-armed rivals India and Pakistan.
Superpowers jockeying for supremacy in Afghanistan could sow further chaos amid the unpredictability of Trump´s foreign policy, analysts say.
Trump has given surprisingly few details on how he will tackle America´s longest war.
"Russia is waiting to see the next US move when Trump takes over," said Kabul-based analyst Ahmad Saeedi.
"If Trump chooses to scale back the US presence, then the Russians will be eager to fill the gap."
As for Iran, many in Tehran fear that a potentially hawkish White House under Trump will try to scrap its landmark nuclear deal with world powers, pushing them to retaliate by deepening ties with the Taliban.
"Foreign powers fighting for their own self interest does not bode well for Afghanistan," said Saeedi. "That only means more violence and bloodshed in the country."