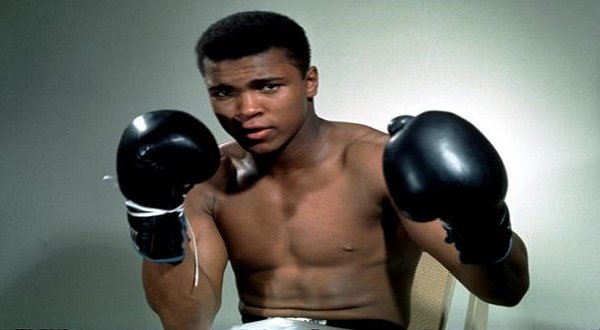 Muhammad Ali poses with his boxing gloves. Action Images/Sporting Pictures
Ali had drawn his own kaleidoscopic life on such a huge and vibrant canvas that no storyteller would have dared to conjure him up
NAJEEB S A
[dropcap]I[/dropcap]t is coming to get you, everybody knows that. Muhammad Ali knew it too, which was why he had started planning his funeral 10 years ago.
His memorial service was held on Thursday in Kentucky's Freedom Hall, where Ali had fought his last bout in the city 56 years ago. Going hand in hand with Kentucky's equestrian tradition, a lone stallion stood in the shade outside the hall with boxing gloves over its saddle and an Ali inscribed blanket over his hind spots. Over 15,000 people, old and young, blacks and whites, Muslims, Christians and Jews were in attendance.
The 4-wheel drive vehicle carrying the last remains of the champ before it reached Cave Hill National Cemetery passed through such landmarks as his childhood home, which in 2013 was turned into a museum, and the Muhammad Ali Center in central Louisville. The burial as it happened was a very private affair.
Ali had drawn his own kaleidoscopic life on such a huge and vibrant canvas that no storyteller would have dared to conjure him up. He was born Cassius Clay in Kentucky's Louisville as the son of a sign painter father and a house cleaner mother.
The stealer of Ali's 60-dollar red Schwinn bicycle had never imagined how his action was going to change the life's dynamic of the owner of his booty. As a 12-year old, Clay could not come to terms with the loss, and to even the score he decided he wouldn't take it lying down but fight.  In that moment the butterfly, the bee, the theatrical performer in the 'comedy of wisdom' and the symbol of racial pride was born, though the world came to realize it perhaps too late.
Long before declaring loyalty to the 'Nation of Islam' group and changing his identity from Cassius Clay to Muhammad Ali, he had refused to conform to the existing norms. By joining the group he said he was shedding his "slave name". When he refused to fight the Viet Congs, with whom he had no quarrel, he put his heavyweight title at stake. While admitting that Ali was a supreme athlete, his opponents, both in and outside the ring, accused him of not fighting like a real man, but like an unseen ghost who threw jabs and lethal left uppercuts at the most opportune moments.
A young Cassius Clay grew up listening to stories about a 19th century military commander bearing his own name who advocated the abolition of slavery. When he had returned from the war in Mexico he had set free forty slaves who he had inherited. He had later left the coveted position of being Abraham Lincoln's envoy to Russia to return to Kentucky only to continue to work for his cause.
In the 1940s and 50s when Clay was only a boy, racism in Louisville was at its peak. Clay's father was a disenchanted man. He believed that whites had come in his way of becoming a painting artist and forced him into what he was: a sign painter. He drank heavily, and let out his resentment over his wife, sometimes resulting in physical abuse. Clay could only cling to his mother's bosom while his drunken father snored heavily in the next room. His mother Odessa recalled that even at 6-months Clay had little muscular arms. Once while being in bed with her he stretched, his fist hitting her front teeth that eventually had to be pulled out. That was Clay's first knockout punch.
During his boyhood years the murder of the 14-year old Emmet Till left a scar on Clay's psyche. Till was accused of addressing a white cashier "baby". A couple of days later a group of white men pulled Till out of his bed, shot him in the head, tied barbed wire with a weight around his neck and threw his body into Tallahatchie River.
Even in grade 10 Clay was no good in school. It was then that he began dreaming of a career in boxing, and started training at a local gym run by a policeman by the name of Joe Martin. He was unbelievably disciplined from the very beginning and tore through Golden Gloves competitions one after the other.
Upon Clay's return to his home town after winning the Olympic gold, a sandwich shop refused to serve him because he was black. In disgust Clay threw his medal into the Ohio River.
The story of Ali that evolved between 1964 and 1980 was unparalleled in American sporting history. Ali excited and provoked people not only within the ring, but also outside of it with his stands on civil rights, Vietnam and Black Power.
Life magazine had commissioned no less a celebrity than Frank Sinatra to cover Ali's 1971 match against Joe Frazier. It was when he fought George Foreman in October 1974 in Zaire that Ali had touched the finest moment in his illustrious career. Norman Mailer who was at the ringside wrote a book titled 'The Fight' immortalizing twentieth century's most mythical sporting moments like a document frozen in time.
But the trajectory of the brutal encounter with Joe Frazier in Manila was tellingly different. Ali himself admitted that it was the closest he had come to death.
Boxing is a cruel sport and often foolhardy in its own way when two contestants try their best to beat the hell out of the other with not bare, but gloved hands, especially in those days, to entertain an audience, the majority of which was whites. Even Joe Louis has admitted that his behavior was subject to set rules carefully hatched not to estrange white America. And Ali was the only athlete who dared to disclose the ugly side of this sport. Yet the champion and the rebel that Ali was appear to outlive the sport that at the same time made him a cripple and the hero of two generations.