NEW DELHI — Lok Sabha membership of Congress leader Rahul Gandhi was on Monday restored by the Lok Sabha Secretariat, three days after the Supreme Court stayed his conviction in a defamation case.
In an order issued by the Lok Sabha secretariat on Monday, it was informed that in view of the Supreme Court order dated August 4, Gandhi's disqualification, which was ordered on March 24 this year, stands withdrawn.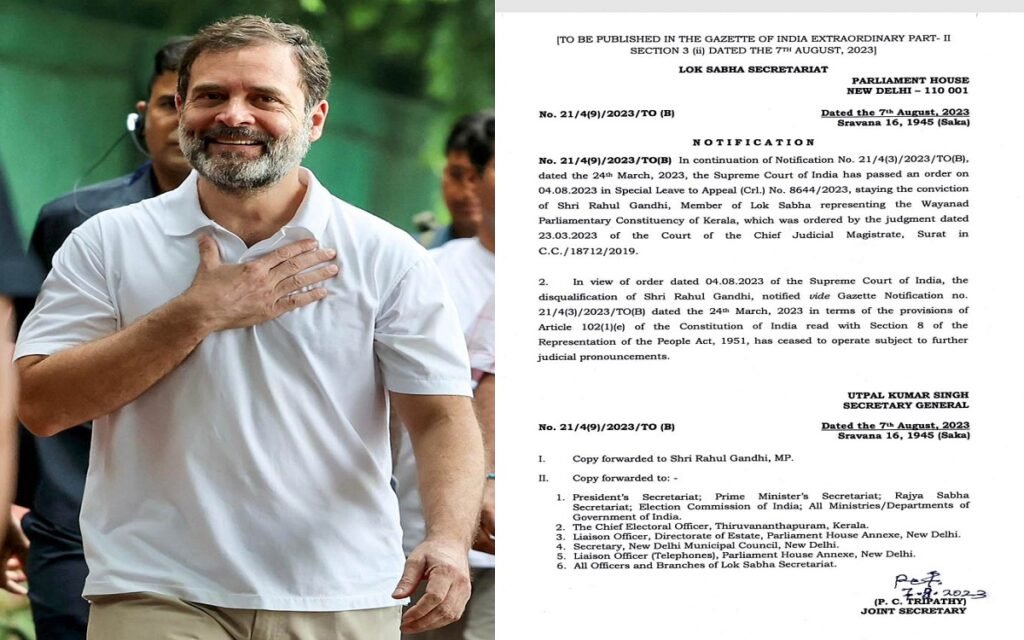 The Supreme Court on August 4 had stayed Gandhi's conviction in a defamation case against him.
A Surat court had earlier found him guilty and handed him the maximum sentence of two years' imprisonment — leading to his disqualification from the Lok Sabha.
The Gujarat High Court had refused to stay the conviction, after which Gandhi had appealed in the Supreme Court.
Celebration Outside Congress Headquarters
The Congress workers went in a celebratory mood after the Lok Sabha Secretariat on Monday restored the membership of Rahul Gandhi in the Lok Sabha.
Congress president Mallikarjun Kharge took a swipe at the government saying that "whatever time is left of their tenure, BJP and Modi government should utilise that by concentrating on actual governance rather than denigrating Democracy by targeting opposition leaders."
The Congress workers bursted crackers outside the party headquarters and some workers also danced to the tunes of Rajasthani and Haryanvi folk songs after the membership of Rahul Gandhi was restored.
Even Kharge shared sweets with the party leaders after the membership of the party Lok Sabha MP from Kerala's Wayanad was restored.
In a tweet, Kharge said, "The decision to reinstate Rahul Gandhi as an MP is a welcome step. It brings relief to the people of India, and especially to Wayanad. Whatever time is left of their tenure, BJP and Modi government should utilise that by concentrating on actual governance rather than denigrating Democracy by targeting opposition leaders."
Earlier in the day, in an order issued by the Lok Sabha Secretariat, it was informed that in view of the Supreme Court order dated August 4, Gandhi's disqualification, which was ordered on March 24 this year, stands withdrawn. — IANS