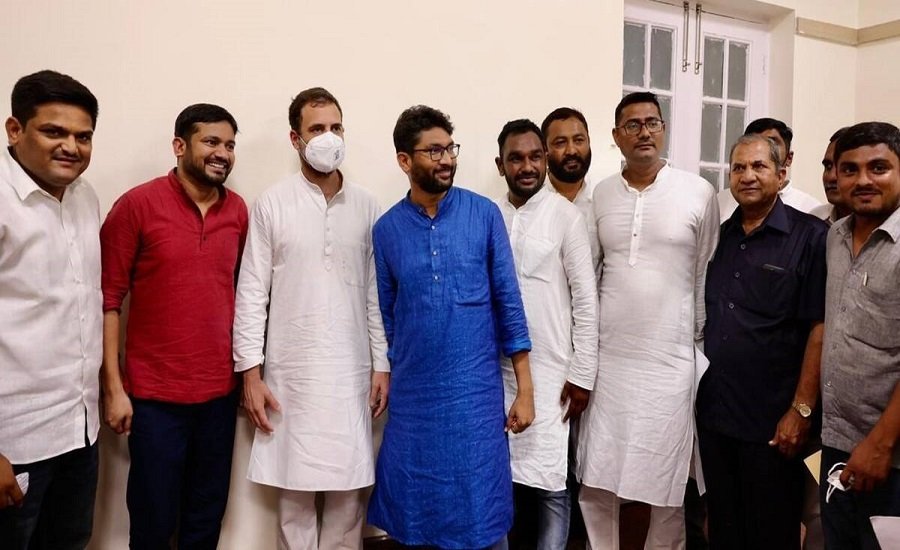 Former JNUSU President described his new party as a big ship
Team Clarion
NEW DELHI – Well-known youth leader Kanhaiya Kumar on Tuesday joined the Congress party in the presence of Rahul Gandhi. The formal joining took place at the All India Congress Committee headquarters. Another youth leader and a prominent Dalit face Jignesh Mevani was also present on the occasion. He was also supposed to join the party but he restricted himself to extending support to the Congress. He had to defer his plan because of technical reasons, it was said.
Kanhaiya, former president of JNU Student Union known for his oratory, made a brief speech to mark the occasion. "I am joining the Congress because it's not just a party, it's an idea. It's the country's oldest and most democratic party, and I am emphasising on 'democratic'…Not just me, but many think the country can't survive without Congress," he said.
Kanhaiya, who until recently was a leader of the Communist Party of India, described his new party as a big ship. "Congress party is like a big ship. If it's saved, I believe many people's aspirations, Mahatma Gandhi's oneness, Bhagat Singh's courage, and BR Ambedkar's idea of equality will be protected, too. This is why I have joined it."
Making indirect references to the right-wing forces, he said a particular ideology was trying to ruin India's values, culture, history, and future.
Posters welcoming him to the party were put up outside the Congress office hours ahead of his switch. He reportedly met Rahul Gandhi twice recently over two weeks. He also met Priyanka Gandhi Vadra.
Mewani also spoke on the occasion. He said he was unable to formally join the party but he would contest the upcoming Gujarat Assembly election on Congress ticket. "I could not join the Congress formally due to technical reasons. I am an independent MLA, if I join a party, I may not continue as an MLA… I am part of the Congress ideologically. I will fight the upcoming Gujarat polls from the Congress symbol." Mewani said.
"To save democracy and the idea of India, I have to be with a party that led the Independence struggle and dragged the British out of the country. This is why I am here with the Congress today."