We were honoured to have two former Presidents, Pranab Da and Smt Pratibha Patil ji join us, along with leaders from different political parties, tweeted Rahul Gandhi.
NEW DELHI (IANS, PTI) — Former President Pranab Mukherjee, who was in the eye of a storm and the butt of criticism from some Congress leaders for going to the RSS headquarters, attended the Iftar party hosted by Congress President Rahul Gandhi on Wednesday.
"Good food, friendly faces and great conversation make for a memorable Iftar! We were honoured to have two former Presidents, Pranab Da and Smt Pratibha Patil ji join us, along with leaders from different political parties, the media, diplomats and many old and new friends," Gandhi tweeted afterwars.
UPA Chairperson Sonia Gandhi was not present in the meeting as she has not returned from abroad. Rahul's Iftar party was not attended by prominent opposition leaders like H.D. Deve Gowda, NCP chief Sharad Pawar, West Bengal Chief Minister Mamata Banerjee, Bahujan Samaj Party chief Mayawati, Samajwadi Party leaders Mulayam Singh Yadav and Akhilesh Yadav and RJD leader Tejashwi Yadav.
Even Andhra Pradesh Chief Minister and TDP chief N. Chandrababu Naidu, who was believed to have been invited, did not attend.
Former Prime Minister Manmohan Singh, former President Patil and former Vice President Hamid Ansari were among the dignitaries who attended the function at a hotel where leaders from opposition parties including rebel Janata Dal-United leader Sharad Yadav, Communist Party of India-Marxist General Secretary Sitaram Yechury, Janata Dal-Secular leader Danish Ali, Trinamool Congress leader Dinesh Trivedi and Bahujan Samaj Party's Satish Chandra Mishra were also present.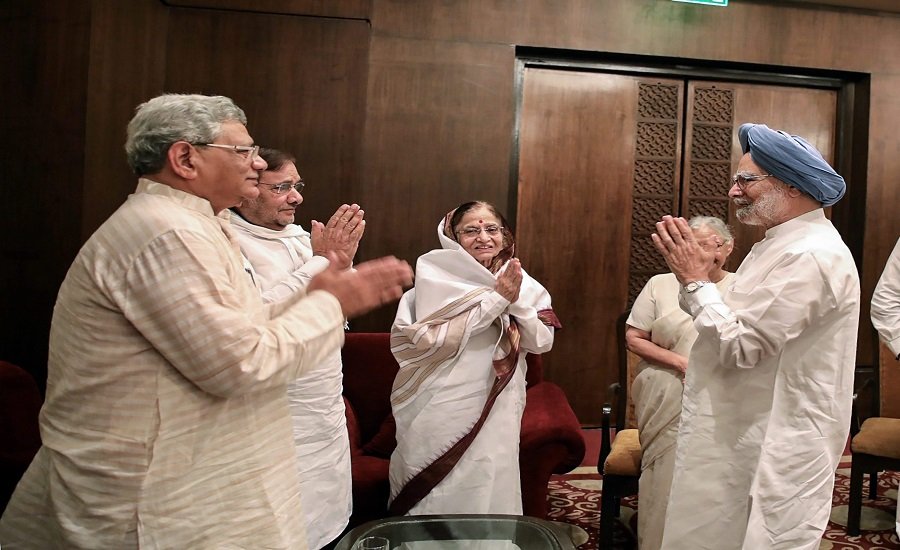 Nationalist Congress Party leader D.P. Tripathi, DMK's Kanimozhi, Rashtriya Janata Dal MP Manoj Jha, Jharkhand Mukti Morcha's Hemant Soren and AIUDF chief Badruddin Ajmal were the other opposition leaders who were present along with Congress leaders P. Chidambaram and A.K. Antony.
Gandhi also met foreign delegates and diplomats at the Iftar party.
Mukherjee, whose acceptance of the RSS invite became a matter of big controversy, greeted those present at the function as he moved among the guests. Rahul Gandhi welcomed him and other guests.
Mukherjee was seen conversing with Gandhi and exchanging pleasantries with him and several other senior Congress leaders.
There was even speculation whether Mukherjee would be invited but the party issued an official statement to set at rest any such reports by saying that the former President has indeed been invited.
Gandhi came along with Mukherjee and while the former president left after sometime, the Congress chief offered to drop him back but Mukherjee politely refused.
Besides pleasantries and photo ops, the short conversation at Gandhi's table revolved around the prime minister's fitness video put out by him on Twitter this morning.
Gandhi described it as "ridiculous" and "bizarre" and asked Yechury to put out his own fitness video in return, as he poked fun at the prime minister.
Earlier, leaders of some opposition parties met at a different location to discuss possibilities of a larger alliance.