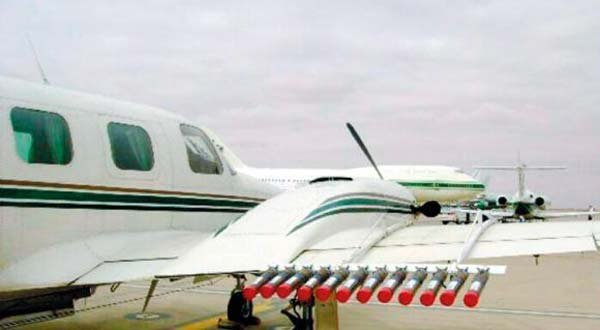 by MOHANNAD SHARAWI
JEDDAH: The Presidency of Meteorology and Environment (PME) has rejected accusations that it, or any other government body, was dispersing rain clouds over Jeddah.
This comes in the wake of a web-based Arabic newspaper, and social networking sites, showing a picture of a plane carrying what appeared to be rocket-shaped containers allegedly filled with gases to disperse rain clouds. There are also accusations that the gases used are harmful to humans.
Hussein Al-Qahtani, spokesperson of the PME, said the plane would not be used over Jeddah.
"It is a special jet plane allocated for new projects. It is for something called cloud seeding aimed at changing the precipitation of clouds, to increase the amount of rainfall over some areas including Abha and the central region."
"This method is used over the areas where there are many rain clouds. It has been a fully fledged operation for around four years." Al-Qahtani said the public should ignore rumors posted on the Internet.
However, residents of some Jeddah neighborhoods have filed a lawsuit accusing the municipality of using toxic gases to disperse rainclouds over the city, according to Ihab Al-Suleimani, a human rights activist.
Al-Suleimani claimed this was done to prevent delays in the construction of ongoing drainage projects. He said the gases are harmful and could cause pregnant women to miscarry. He would submit evidence to prove the allegations to the Court of Grievances, he said.
Al-Qahtani said the Saudi judicial system allows three or more citizens to file lawsuits on public issues against any government body. This was part of ongoing efforts by Custodian of the Two Holy Mosques to root out corruption in government.
The seeding of clouds to induce rain has reportedly taken place over many years. In one high profile incident in China in 2008, clouds were seeded to prevent rain disrupting the opening ceremony of the Beijing Olympic Games. It reportedly had mixed results. Arab News