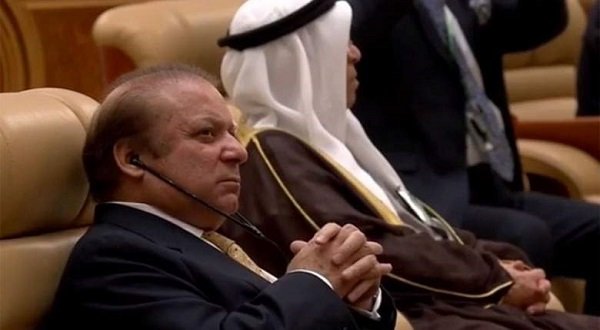 RIYADH (IANS) — US President Donald Trump had a brief encounter with Pakistani Prime Minister Nawaz Sharif on Sunday and said he was pleased to meet him.
The interaction took place before the Arab Islamic American Summit at the King Abdulaziz Conference Centre in Riyadh, GEO News reported.
The US president shook hands with PM Nawaz and exchange of pleasantries took place between the two leaders.
During the brief meeting, Trump said that he was very pleased to meet PM Nawaz to which the premier responded that the feeling is mutual.
The Custodian of the Two Holy Mosques, King Salman bin Abdulaziz of Saudi Arabia, also warmly welcomed Nawaz Sharif.
Trump addressed the summit which was attended by leaders from 55 countries
PM Sharif arrived in Riyadh to attend the summit on the invitation of King Salman.
After departing Islamabad in the morning, the premier arrived along with his delegation, which comprises several government officials and media persons, including foreign affairs' adviser Sartaj Aziz and lawyer Akram Sheikh.
The summit is being attended by around three dozen leaders of Islamic countries, including the prime ministers of Bangladesh and Malaysia, and presidents of Afghanistan, Egypt, as well as Trump.