GHAZANFAR ABBAS | Caravan Daily
NEW DELHI: Denouncing the Sangh Parivar's theory of nationalism, pushed by Rashtriya Swayamsevak Sangh (RSS) and its ruling political wing Bharatiya Janata Party (BJP) during the last four years, distinguished academicians, authors and journalists urged people to rediscover the 'Idea of India'. They were speaking at the launch of senior journalist Ziya Us Salam's book "Of Saffron Flags and Skullcaps: Hindutva, Muslim Identity and the Idea of India" here on Monday.
Recalling Mahatma Gandhi and Jawaharlal Nehru, first Prime Minister of India, author and senior Congress leader Mani Shankar Aiyar said, "The idea of India is uniquely a pluralistic society with inclusiveness as its special character. This nation belongs to those who live here and accept diversity. It is our job to rediscover very same idea of India that was dreamed in 1947 irrespective of our religious faiths"
"It is true that BJP was able to form the government (in 2014) but its share of votes was 31%. It shows that majority of Indians particularly Hindus didn't vote for them. Over the last 70 years, the idea of Hindutva has been repeatedly rejected by the people," Aiyar said.
Talking about 'Hindu Nationalism', Prof. Aditya Mukherjee of JNU said, "Hindu Nationalism is itself a contradiction. In a multi-religious nation, there can't be Hindu Nationalism, Muslim Nationalism or Sikh Nationalism."
Appealing to people to reject the 'idea of Hindu Nationalism' that is based on one religion, one language and one culture, he further said, "We must own up our freedom fighters such as Subhash Chandra Bose, Gandhi, Bhagat Singh, Sardar Patel etc. who are being projected as Hindu Nationalists."
Prof. Apoorvananda Jha of Delhi University expressed concern over the incidents of lynching and felicitation of the killers by BJP leaders.
"It is first time I am seeing that people are being killed and their killers are being hailed. With the help of Tiranga, hatred is being spread against Muslims. Now our political parties have reached to a level where they are saying that they are better Hindus than others," Prof. Jha said.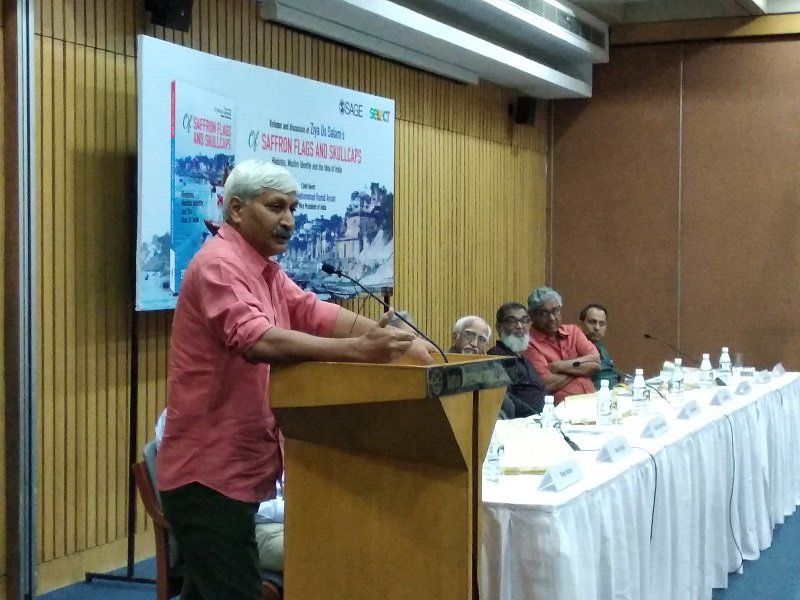 Emphasizing the need to assert identity, TV channel CNN-News 18's Political Editor, Mariya Shakil said, "When 18% of Muslims of Uttar Pradesh are declared unreliable, when 30% Muslims who are very important part of the discourse in Assam don't matter and when significant percent of Muslims don't matter in every state where they can make a difference with their voices, it is import for them to assert the identity."
She said that all these things have not happened in just four years.
Retrieve the Dream of India
Speaking to Caravan Daily about the idea behind his book, senior journalist Ziya us Salaam said, "Main purpose is to place a critical fight to save the soul of India from the right wing forces at the moment. When Narendra Modi came to power in 2014, he said 'Sabka Sath Sabka Vikas' and a large section of the society was won over by his inclusive development concept. But in these years, inclusive development gave way to exclusionist politics wherein Muslims, Christians, Dalits and other marginalized sections of the society were excluded from the perceived march of the nation."
"Akhlaq was murdered (in Dadri, Uttar Pradesh) three years ago. When the main accused in the case, Ravin Sisodia died, Union Culture Minister Mahesh Sharma had wrapped his body in Tricolor. That was a signal that by killing a Muslim even if he is father of IAF (Indian Air Force) personnel, you are doing a national duty. Akhlaq's murder happened to be a precursor to the further lynching instances people like Pehlu Khan, Junaid, Alimuddin etc and other cases including Dalits' flogging in Una of Gujarat. Increasingly, we see the right wing leaders coming up to rescue the oppressors. A recent example is Cabinet Minister Jayant Sinha who garlanded people convicted for lynching of Alimuddin Ansari in Jharkhand," he pointed out.
"We have to retrieve the soul of India from such forces and that battle has to be fought by every Indian irrespective of the religion," Salam urged.
Appreciating the book, Prof. Mohammad Sajjad, from Aligarh Muslim University said, "One of the best things in the book is that India is a dream of its makers that has to be retrieved by Indians."
The book was launched by former Vice President of India Dr. Hamid Ansari.