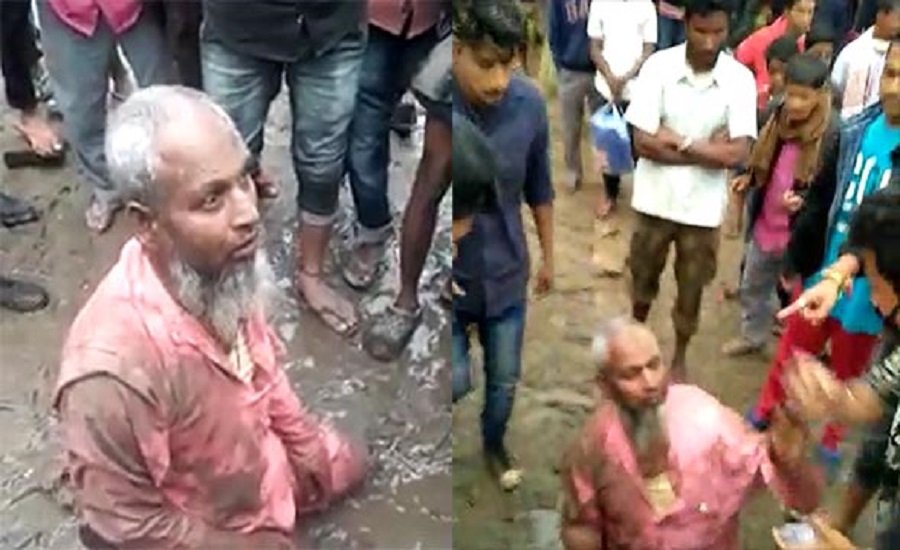 The mob insulted and disgraced the victim and some of them forced something into his mouth which the family of the victim alleged was pork
Clarion India 
NEW DELHI — The National Human Rights Commission (NHRC) has directed the Assam government to pay compensation of Rs 1 lakh to 69-year-old Showkat Ali who was thrashed and forced to eat pork by a gang of extremists for carrying beef in the presence of policemen in April last year in Biswanath Chariali city of Assam, a state in India's north-east.
The commission passed the order after complaints by the Leader of Opposition in Assam Assembly Debabrata Saikia of the Congress, the New Indian Express (TNIE) reported. It said that the both Chief Secretary and Director-General of Police have failed to file an action report despite being told by the commission.
However, a report submitted by the district administration said that the market where the incident took place was located in Hindu-inhabited area and the carrying of beef hurt their religious sentiments. The mob insulted and disgraced the victim and some of them forced something into his mouth which the family of the victim alleged was pork.
"… It is clearly discernible from the report that the public servant was collecting revenue from the market involving some local unemployed youths which is against the law. The victim was found insulted and disgraced on the basis of caste/religion and therefore, the human rights of the victim were violated. Police apprehended 15 persons and forwarded them to judicial custody. Thus, prima facie it is a case of violation of human rights of the victim for which the state is vicariously liable to compensate the victim," the NHRC order quoted in a report in TNIE  reads.
While directing the state government to release the compensation to Ali, the order asks the Chief Secretary to submit the proof of payment within six weeks.
The order also told the DGP to file, within four weeks, an action-taken report against the guilty police officers or face action by the commission.
"In addition, the Commission has not received any action-taken report against the guilty police officers from the DGP, Assam. Therefore, let reminder be sent to the DGP to submit the action-taken report against the guilty police officials within four weeks failing which the Commission shall be constrained to invoke Section 13 of the Protection of Human Rights Act, including the law laid down in Rule 10 and Rule 12 of order XVI of Civil Procedure, 1908 and the criminal proceedings under Sections 175/176 of IPC, 1860 and such other action as it deems proper under the law," ruled the Commission.