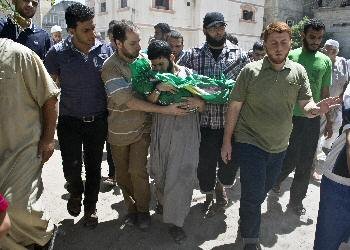 GAZA CITY (AFP) An Israeli airstrike killed a mother and four children from the same family in northern Gaza on Sunday, medics said.
The strike hit a home near Jabalia in the north of the Palestinian territory, emergency spokesman Ashraf Al-Qudra said, as Sunday's death toll in Gaza reached at least 14.
Earlier strikes in the day killed a one-year-old girl and a 17-year-old boy, Qudra said. Several other air strikes brought Sunday's death toll to at least 14 people, including six children.
The conflict, which erupted on July 8 when Israel launched its operation against the besieged coastal territory, has claimed more than 2,100 Palestinian lives and those of 68 Israelis, four of them civilians.
Israel also killed a top Hamas financial official in an air strike on Gaza City.
Mohammed Al-Ghul was an important Hamas actor, Israeli army spokesman Major Arye Shalicar claimed. The airstrike targeted a car in Gaza City, killing Ghul, the army said.
Palestinian medics in Gaza confirmed his death.