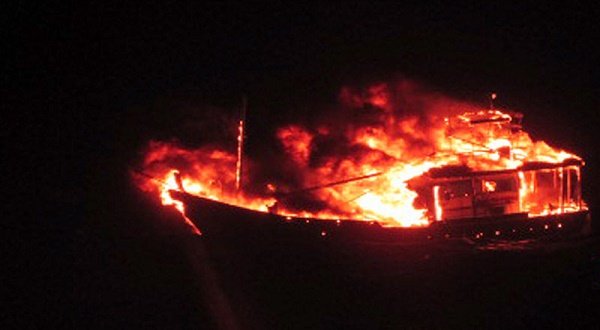 ISLAMABAD — Pakistan today rejected reports that a Pakistani fishing boat said to be carrying explosives was intercepted by the Indian Coast Guard off the coast of Gujarat and the vessel exploded before sinking along with four occupants, reported PTI.
Foreign Office Spokesman Tasnim Aslam categorically denied the reports which said that the incident occurred on the night between December 31 and January 1, some 365 km off the coast of Porbander, generating strong speculation that it was reminiscent of the 2008 Mumbai terror strikes.
Aslam told the media that no boat from Karachi had gone to the open seas.
Pakistan Defense Ministry officials also rejected the reports and said the Indians were "trying to divert attention" from the killing of two Pakistan Rangers on December 31.
"It is part of Indian propaganda to tarnish the image of Pakistan," a Defence Ministry official told PTI.
India's Defense Ministry said the Coast Guard ship warned the fishing boat to stop for further investigation of the crew and cargo. However, the boat increased its speed and tried to escape away from the Indian side of maritime boundary.