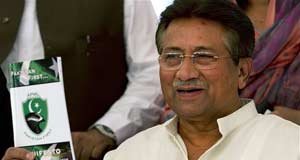 ISLAMABAD, JAN 8, (MAMOSA Report) – Pakistan's Defense secretary has rejected 'speculations' about armed forces' role in Musharraf saga in a bid to dissociate the military from the entire episode.
"It is extremely surprising why speculations are on about the military's involvement in this case," said Defense Secretary Lt-Gen (r) Asif Yasin Malik in a brief and candid interaction with media people Tuesday.
"The matter is pending with the court. It's for the court to decide the case, which is the rightful and authorized platform to do so."
He further added, "I wonder why speculative reports keep running in the media about this issue. I come across so many news items that suggest that the military is behind him (Musharraf). Pakistan Army has nothing to do with this whole episode. As I said the matter is with the court, let the court decide on it."
"When courts are civilians, a trial is conducted by civilians and there are civilians everywhere (dealing with the matter), there's absolutely no room and possibility for the military's role whatsoever."
The defense secretary's interaction with the media is being seen as the military establishment's perspective on the Musharraf issue and about the treason trial case against the former army chief in the Special Court to which a medical report on his treatment at Armed Forces Institute of Cardiology (AFIC), Rawalpindi, was submitted.
The four-page report, prepared by AFIC Commandant Maj-Gen Syed Muhammad Imran Majeed, recommended coronary angiography of Pervez Musharraf.
Musharraf was rushed to a military hospital in Rawalpindi on Jan 3 after he suddenly developed a 'heart complication' while en route to attend the hearing of the case.
According to General (r) Pervez Musharraf's medical report, the former military strongman has nine medical conditions.
The former military ruler had also missed two earlier hearings in his case because of bomb threats, and there has been rampant speculation in the media that he would be evacuated from the country under medical pretense.
Former president General (retd) Pervez Musharraf is being prosecuted under Article 6 of the Constitution for imposing an emergency in the country on Nov 3, 2007 and for detaining members of the superior judiciary.