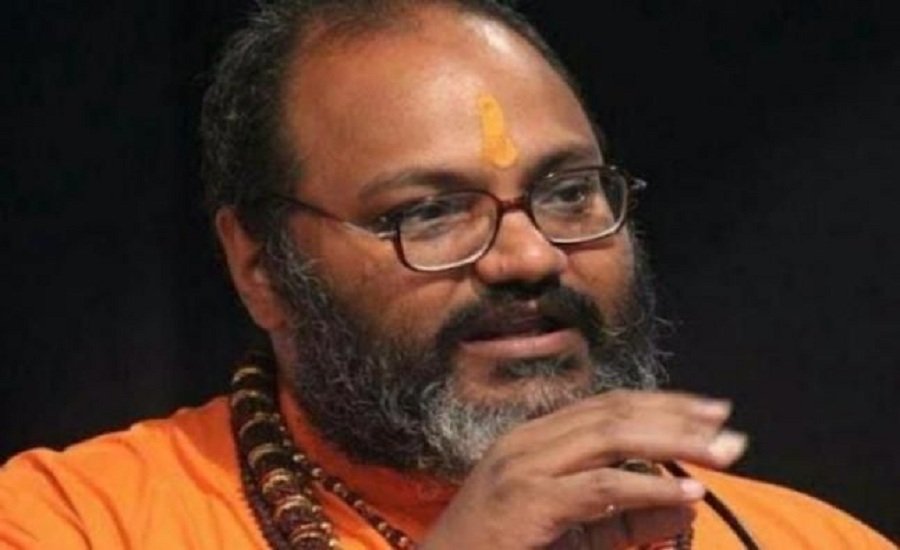 A video of Saraswati went viral on social media a couple of days back showing him speaking at the Press Club of India where he is making offensive remarks about Prophet of Islam
Zafar Aafaque | Clarion India
NEW DELHI — All India Muslim Majlis-e- Mushawarat has  written to Prime Minister Narendra Modi seeking his urgent intervention over the alleged blasphemous comments about Prophet Muhammad (SAW) by hate preacher and Dasna Devi Temple head priest Narsinghanand Saraswati.
The letter while briefing about the offensive comments of the priest urges the PM to direct the law enforcement agencies to arrest Saraswati.
The letter from Mushawarat president Navaid Hamid comes amidst widespread outrage among Muslims who say the comments of the priest have hurt their sentiments. There is a growing demand of strict action against Saraswati as Muslim leaders have approached police in different areas with complaints for registration of cases.
A video of Saraswati went viral on social media a couple of days back showing him speaking at the Press Club of India where he is making offensive remarks about Prophet of Islam.
On Saturday, Delhi Police issued a statement informing that it has started investigations after "taking cognizance of a video circulating on social media in the matter of a conference took place in the Press Club." The Police informed that a case under FIR No. 57/21 under sections 153-A/ 295-A-IPC has been registered at PS Parliament Street.
Aam Aadmi Party MLA and chairman of the Delhi Waqf Board Amanatullah Khan also on  Saturday filed a police complaint against Narsinghanand Saraswati at the Jamia Nagar police station and registered a case under the same sections of the Indian Penal Code.
The letter by Mushawarat alleges that Saraswati's agenda is to create a rift between communities by "spreading venom against Islam and Muslims by exploiting his position and in this vicious campaign, it seems, he is being patronised by a section of #BJP's top leadership in Uttar Pradesh."
The letter refers to the case of Muslim comedian Munawar Faruqui who had to spend more than a month in jail after he was charged with hurting religious sentients  for a joke he did not make.
It further recalls how the priest is using his temple in Ghaziabad to spread hatred against Muslims. The letter mentions about his attempt  to tarnish the image of former President late Abdul Kalam's image by accusing him for passing the formula of nuclear bomb to Pakistan as DRDO's chief and also being responsible for deaths of a number of scientists in DRDO during his tenure as its chief. The comments were not only disrespectful for the father of India's missile technology but were deliberately hurled to create hatred against the Muslims by invoking Pakistan's angle to negate the former president's selfless and unparalleled contribution for the nation."
The letter says that Saraswat's press conference at Press Club of India, hardly a kilometer away from PM's office and few kilometres from India's diplomatic enclave, where a large number of Muslim countries have their embassies, targeting Prophet of Islam would tarnish India's image.
It warns if no action is taken against the priest it would raise "question mark on the impartiality of the law enforcement agencies and their professional commitment to deal with rabble-rousers / hate mongers beside creating anger amongst the country's Muslims for the blasphemy remarks by Narsinghanand & others."
The priest is frequently platformed by TV stations to preach hate on prime time where he makes derogatory remarks against Prophet and spews bile against Muslim community.
Amanatullah, the AAP MLA representing Muslim dominated Okhla said in his complaint that being a practising  Muslim he was offended by Saraswati's  "uncouth words that are below the standards of being repeated".
A video of Khan doing rounds on social media shows him saying that under Islamic Shariah Saraswati's  tongue and neck, both should be cut off for making blasphemous remarks. "The law of India does not allow us to do this. We have faith in the Constitution of the country," Khan says. Khan had posted these remarks on his Twitter account as well but the social media company removed the tweet citing violation of rules on violent speech.
Twitter removed the tweet of @KhanAmanatullah on Yati Narsinghanand. pic.twitter.com/PvKiXEvgCo

— Waquar Hasan (@WaqarHasan1231) April 4, 2021
AIMIM chief Asaduddin Owaisi also condemned Saraswati's hate speech as he wrote a tweet saying "Insulting Prophet (SAW) is unacceptable. Can these criminals acting as religious teachers get over their unnatural fixation with Islam? For something that you do not like, you do spend a lot of time on it. I'm sure there's enough in your own belief system that you can discuss."