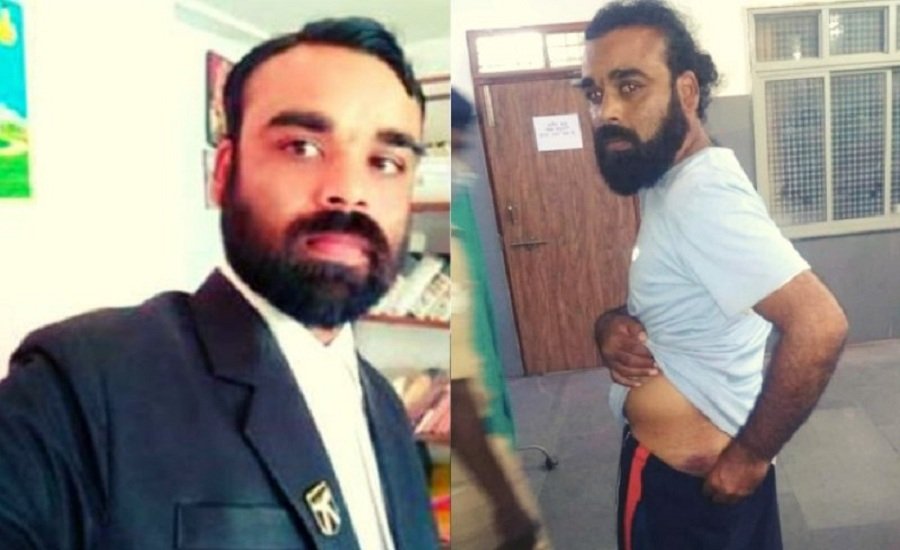 Clarion India
NEW DELHI – Twitter echoed with outrage over Madhya Pradesh cops' contention that they had brutally beaten up a Hindu lawyer sporting bear because they thought him to be a Muslim.
Deepak Bundele, a diabetic patient with high blood pressure, said that he was thrashed by the police personnel on March 23 while he was on his way to a government hospital for treatment. When the pressure to lodge FIR against the errant cops grew, the police forces told Bundele that they mistook him for a Muslim because of his beard.
Bundele shared a voice record of the police statement. The cops also disclosed that the police support Hindus during communal riots. The cops said all this when they went to the residence of Bundele to record his version of the incident to investigate the matter after the FIR was lodged.
"All those people are ashamed that they did something like this to a Hindu brother without knowing his identity. We do not have any enmity with you. Whenever there is a Hindu-Muslim riot, police always supports the Hindus; even Muslims know this. But whatever happened with you was because of ignorance. For that, I have no words," a police official was heard saying this in the recording voice.
The communal face of Madhya Pradesh police drew a lot of condemnation on the social media. AIMIM chief Asaduddin Owaisi demanded from MP chief minister Shivraj Singh Chouhan to take action over this communal biases.
Just amazed that these cops actually apologised. If the bearded man was actually Muslim, we could've only expected it to get worse. Also grateful for their honesty, it's rare for cops to admit their prejudices@ChouhanShivraj will you take any action?https://t.co/gPmDeRjuFD

— Asaduddin Owaisi (@asadowaisi) May 20, 2020
Reacting to the report, Swedish professor Ashok Swain said that in India, being Muslim is enough reason to beaten up by the cops.
If you look Muslim, Police in India seem to have the right to beat you up! https://t.co/twtHNCMBva

— Ashok Swain (@ashoswai) May 20, 2020
In a series of tweets, eminent activist Kavita Krsihnan said that this story shows the institutional communal bias in Indian police. She also lauded the lawyer Bundele to take on the police rather than relying on their majoritarian privilege.
Here on display is the institutional communal bias of India's police. The MP police is using the same strategies the Sangh: brutalise oppressed castes & then try to coopt them into the Sanghi fold by inviting them to bond over & share anti Muslim hatred. But IT FAILED.

— Kavita Krishnan (@kavita_krishnan) May 20, 2020
Tagging Union minister Mukhtar Naqvi, journalist Prashant Kanojia asked this is what the heaven he is meant.
माननीय @naqvimukhtar जी क्या यही मुसलमानों का हेवन है? pic.twitter.com/wARE6jols2

— Prashant Kanojia (@PJkanojia) May 20, 2020
Now tell me – can u blame the Madhya Pradesh police for being dishonest!? This is unprecedented levels of transparency in #NewIndia 🔥https://t.co/ZHGjqCsmqi

— Akash Banerjee (@TheDeshBhakt) May 20, 2020