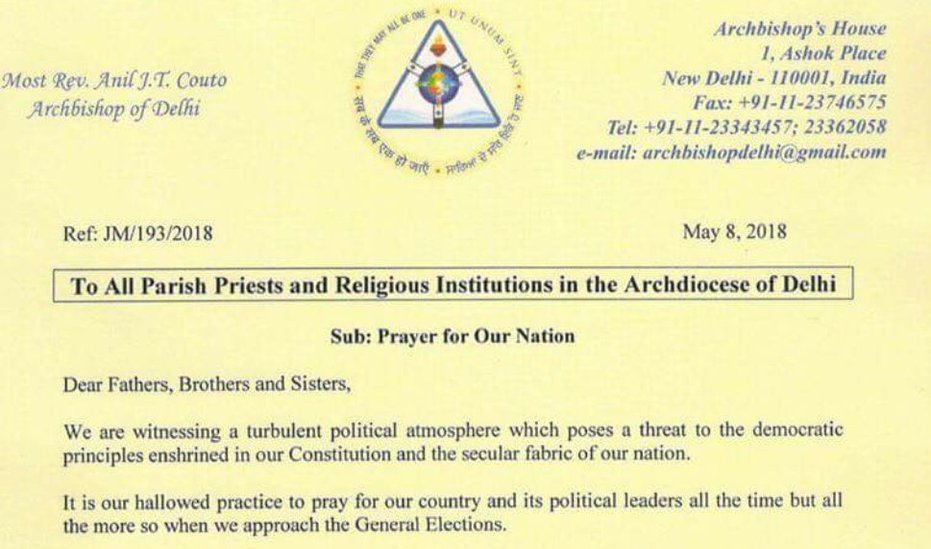 Caravan News
NEW DELHI:  A short five-paragraph letter from a Church leader that seems to have shaken the Narendra Modi government has not a single word against Modi, BJP or RSS, nor has it any word of hatred. What it says has been said by four senior judges of the top court and is said everyday by millions of people. Then why so much hue and cry over the letter of Archbishop of Delhi? What is in it that forced Home Minister of the country to come out telling that all is well in the country and minorities are safe?
The 8th May letter from Archbishop Anil Couto is meant for all parish priests and religious institutions in the Archdiocese of Delhi and calls for prayer for the nation.
"We are witnessing a turbulent political atmosphere which poses a threat to the democratic principles enshrined in our Constitution and the secular fabric of our nation," reads the first paragraph of the letter. It asks for a prayer campaign ahead of the 2019 Lok Sabha polls.
"It is our hallowed practice to pray for our country and its political leaders all the time but all the more so when approach the General Elections."
"As we look forward towards 2019 when we will have new Government let us begin a Prayer Campaign for our country from May 13, 2018 which marks the Anniversary of the Apparition of the Blessed Mother at Fatima Consecrating ourselves and our nation to the Immaculate Heart."
As per the letter, the Prayer Campaign will include "observing fast on Friday by forgoing at least one meal and offering our penance and all our sacrifices for our spiritual renewal and that of our nation," and an hour of Eucharistic Adoration every Friday in all our parishes, religious houses and institutions "specifically praying for our nation."
Since BJP came to power in the centre and Modi became PM, a surge has been witnessed in fringe attacks on minorities, particularly Muslims and Christians in the name of cow, beef, love jihad or conversion. In BJP-ruled states – from Rajasthan to Haryana to Jharkhand to Assam – dozens of innocent people were lynched by brutal gangs of self-styled Gau Rakshaks. In Rajasthan and Madhya Pradesh, several incidents of church attacks were registered. And in election campaigns, top leaders of the government and the ruling BJP have been found dividing the society on sectarian, social and political issues.