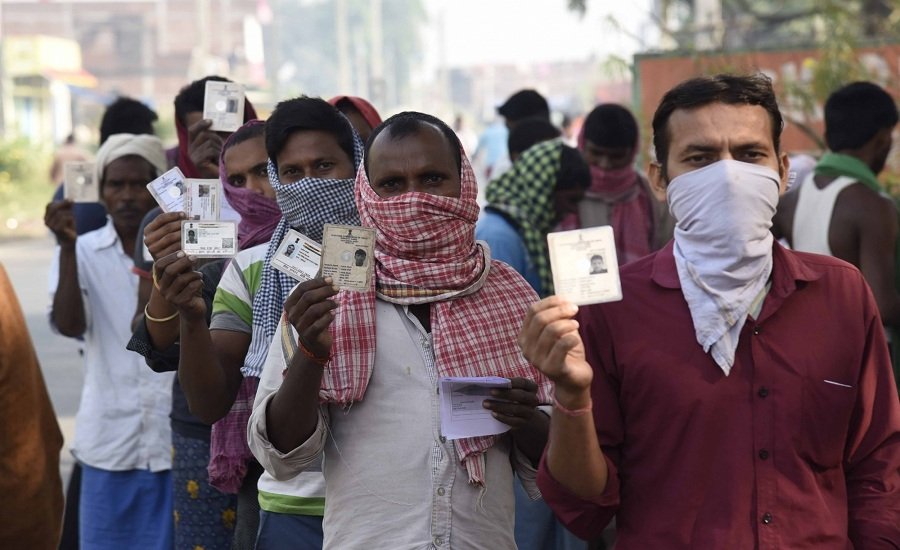 By-elections for 54 assembly seats across 10 states were also held with two separate incidents of firing in Madhya Pradesh
Clarion India
PATNA – The second phase of assembly elections in Bihar for 94 seats concluded peacefully on Tuesday with few incidents of violence. The Election Commission of India (ECI) had registered 54.05 percent till 6 p.m. The polling is over two per cent lower when compared to the 2015 assembly election when the ECI had registered 56.17 per cent polling in these areas.
This round featured BJP's strongholds in north Bihar. The key candidates included Tejashwi Yadav – the chief ministerial candidate of the opposition alliance of the Rashtriya Janata Dal, the Left and the Congress.
By-elections for 54 assembly seats across 10 states were also held on Tuesday.
The maximum polling turnout was at Muzaffarpur with 59.98 per cent followed by Begusarai at 58.67 per cent and Sitamarhi at 57.4 per cent.
The turnout in other districts such as East Champaran was 56.75 per cent, West Champaran 55.99 per cent, Sheohar 56.04 per cent, Darbhanga 54.15 per cent, Madhubani 52.67 per cent, Gopalganj 55.09 per cent, Siwan 51.88 per cent, Saran 54.15 per cent, Vaishali 51.93 per cent, Samastipur 56.02 per cent, Khagaria 56.10 per cent, Bhagalpur
54.54 per cent, Nalanda 51.06 per cent and Patna 48.23 per cent. Bihar's chief electoral officer H.R. Srinivas said a total of 1463 candidates were in the fray including 1316 male, 146 female and one third gender. The ECI has used 50,115 control units, 73,210 ballot units (EVMs)and 53853 VVPATS in the 94 constituencies.
"We have deployed 47 general observers, 15 police observers, 3260 micro observers, 634 model polling stations, 3111 Android phones and 1572 video cameras in this election," added Srinavas.
Meanwhile, onions were pelted during Chief Minister Nitish Kumar's election rally in Madhubani's Harlakhi.
नीतीश कुमार के मंच पर प्याज़ फेंका गया ! pic.twitter.com/fLnivM0naY

— Rohan Gupta (@rohanrgupta) November 3, 2020
The last few days have seen sharp jibes during campaigning. While Prime Minister Narendra Modi tagged Tejashwi Yadav as "Jungle Raj ka Yuvraj", Nitish Kumar mocked him and LJP's Chirag Paswan as a "cricketer and actor using him for publicity".
Asked if Modi's campaign is making him nervous, Tejashwi Yadav told NDTV, "I have nothing to lose. I am happy I fought on good issues. I have age on my side. I will try hard, work more". He has almost daily targeted Nitish Kumar as "mentally and physically tired". Kumar was also called "General Dyer" by the opposition over the police action during the Durga idol immersion in Munger, in which one person was shot dead.
Congress leader Rahul Gandhi on Tuesday alleged that Modi and Kumar "looted" Bihar, and claimed that people have decided to vote them out of power. Addressing a poll rally in Bihar, the former Congress president criticised the NDA government over demonetisation, migrant crisis, GST, handling of the coronavirus pandemic and the three new farm laws. He said neither Modi nor Kumar did anything to help migrant labourers when they were walking thousands of kilometres to return homes during the coronavirus lockdown.
Actor-turned-politician Shatrughan Sinha claimed that Tejashwi-led 'Mahagathbandhan' was headed for a "landslide" win. Critics of RJD leader will be "khamoshed" (silenced) when results are declared on November 10, he said.
All four assembly segments in state capital Patna held by the BJP – Patna Sahib, Kumhrar, Bankipur and Digha – are voted Tuesday. Seven constituencies of Nalanda district, to which the chief minister belongs, are also up for election.
The ruling JD(U) on Tuesday submitted a memorandum to the Election Commission demanding registration of an FIR and cancellation of nominations of Tejashwi Yada and his brother Tej Pratap Yadav for allegedly concealing information about some properties in their election affidavits. A JD(U) delegation led by state Information and Publi Relations Department (IPRD) Minister Neeraj Kumar met Chie Electoral Officer (CEO), H.R. Srinivasa and submitted a memorandum to him.
Another complaint to the election commission was made against Prime Minister Modi by Communist Party of India MP Binoy Viswam. He wrote to the poll panel alleging violation of the Model Code of Conduct by the prime minister in the run up to the Bihar Assembly polls. Referring to news reports, Viswam claimed that the Prime Minister's Office, in a newsletter sent via its official PR email, solicited funds for the work of the Bharatiya Janata Party (BJP).
The last phase of elections in Bihar will be held on November 7, after which the votes will be counted on November 10.
The biggest chunk of assembly seats where by-polls were held was in Madhya Pradesh – 28. Two separate incidents of firing were reported in the Morena Sumawali seat in Madhya Pradesh, affecting the polling process briefly. Four people have been arrested. Elections for eight Assembly were held in Gujarat, seven in Uttar Pradesh, two each in Odisha, Nagaland, Karnataka, and Jharkhand; and one seat each in Chhattisgarh, Telangana, and Haryana.
– With input from agencies