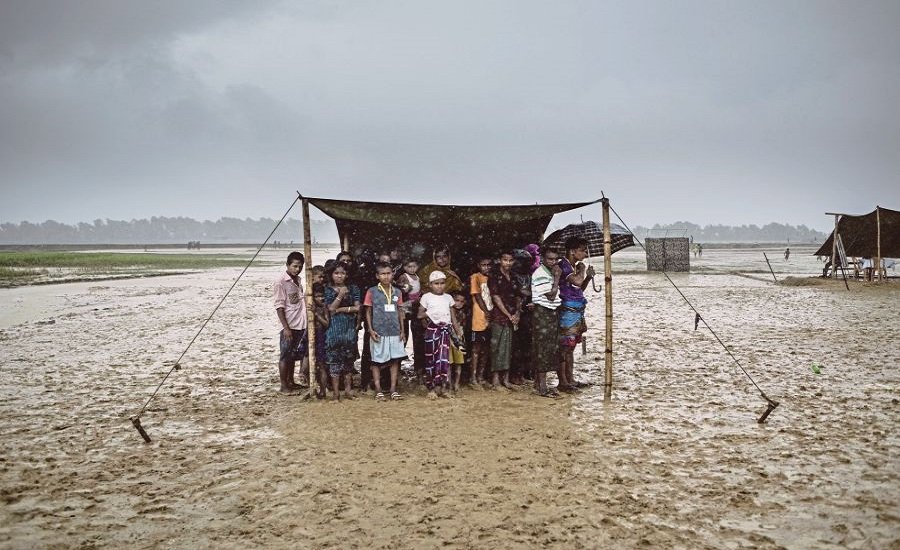 In Rohingya refugee camps, education, malnutrition, health status and food insecurity are at crisis levels.
COX'S BAZAR, BANGLADESH (AA) — Almost one million Rohingya people have led their lives on the brink in the Cox's Bazar refugee camp in Bangladesh since August 25, 2017, when forces in neighboring Myanmar launched a crackdown on the minority Muslim community.
Conditions for the Rohingya refugees have worsened dramatically since the early days of the influx one year ago, when thousands of people were crossing the border each day, sleeping exposed under open skies, with many in desperate need of medical help and on the brink of starvation.
Hafizur Rahman, 34, has memorized the holy Quran. He used to teach at a religious school at Mangdu, Myanmar called Tahfizul Quran. Now he is teaching at a religious school in the camp called Furkania. He fled Myanmar persecution and took shelter in Kutupalong Rohingya camp.
Rahman told Anadolu Agency that he has three children but right now he is not thinking about their future. He is satisfied with the tiny shelter he was given in Bangladesh, saying that it is better than things in Myanmar. From experience he says he doubts Myanmar will give the Rohingya citizenship status. For the time being he is satisfied with his life at the camp.
About the future, he says he prays to Allah and does not want to think about anything further.
All refugees at the camp have access to shelter, food, and medical care, including from a Turkish-run clinic. But malnutrition, health problems, and food insecurity are at crisis levels, and overcrowding is a major problem that limits access and mobility, thereby increasing safety risks.
Asked about his life at Kutupalong Refugee camp in Bangladesh, Md Anis, a former Bypchan primary school teacher in Myanmar, says they sell some of the supplies given to them by aid groups to fulfill their other needs. He told Anadolu Agency that their main needs are a gas stove and cash.
Anis, 54, had a job for 10 years before deciding to flee Myanmar last September, after seeing his neighbors being brutally tortured by Myanmar's army.
Like other Rohingya, he warns of dire consequences if their basic rights are not met.
"If the world doesn't see us and our basic rights aren't met, and doesn't put pressure [on Myanmar] to take us back, then we shall commit suicide if necessary. We don't want to be victims of the Myanmar military again."
He says if the world fails to give them back their rights they should be given permission to fight for themselves.
According to humanitarian community's 2018 Joint Response Plan (JRP), an estimated 16 percent of the Rohingya are single mothers. Many lost their husbands to violence in Myanmar or to migration in search of livelihoods for survival. A majority of the population are women and children (52 percent are women and girls; 55 percent are children under 18).
Arefa Begum, 45, came from Mongdu, Myanmar. She has 10 children, eight of whom are with her in Bangladesh, with her sons Md Alam (20) and Robi Alam (19) still in Myanmar.
On the problems women face in camp, Arefa says they don't find work to earn money. Their small room has little ventilation and it's hot all the time. They don't get enough firewood for cooking. The garbage scattered around their room often makes their children sick.
The burden of all these problems make Arefa look like an old woman. She says she has six daughters, all unmarried, the eldest 18. They have neither education nor work, and she doesn't know how to marry them off. She can hardly think of the type of future awaiting them.
Threat of environmental disaster
As of last October, approximately 2,500 acres of forest had been cut for firewood and building shelters. Of this, at least 1,500 acres was cut from social forestry projects, impacting local Bangladeshi communities. The demand for firewood from forests is likely higher than the environment can supply. This could also exacerbate the effects of flooding and cyclones, as low-lying, degraded land will become more exposed.
The camps and settlements are also encroaching on Asian elephant territory, which poses a risk to both people (12 Rohingya people have been killed in elephant incursions) and the elephants, whose habitat is being compromised. The endangered Indian elephant, along with deer and two species of Indian civet, is a flagship species in the area that is vulnerable. Out of the total 1,156 wildlife species that inhabit this threatened forest — including fish, amphibians, reptiles, birds and mammals — 65 are critically endangered, 94 are endangered, and 56 are vulnerable.
In the refugee camps and settlements, with weak shelters and little infrastructure in place, the settlements are particularly vulnerable to this environmental impact. So there is an urgent need to upgrade shelters and to pre-position shelter materials and essential household items for emergency response.
Lack of education
The refugees are not permitted to enroll in formal education facilities and even when allowed informal access to education, they are denied certification.
In particular, recently arrived refugees lack access to safe and protective learning facilities in new campsites and makeshift settlement areas. This gap is partly due to limited space in these areas as well as the time needed to set up educational activities. Cox's Bazar is among the lowest-performing districts in the country in terms of education access, retention and achievement.
UNICEF is providing education in learning centers for 92,000 Rohingya children aged 4-14, teaching them basic literacy, numeracy and life-saving messages in English and Burmese. However, over 50 percent of children in the refugee camps are currently out of reach of education services.
UNICEF operates 150 Child-Friendly Spaces where children are enabled to heal following their traumatic exodus from Myanmar. Children receive psycho-social support and case management from trained social workers. Children are encouraged to participate in recreational activities such as games, art, music, and drama. They also learn critical life skills to equip them to understand and deal with the real risks they face in their daily lives, including child labor, child marriage, and human trafficking.
Absence of ID documents and recognized legal status impedes refugees' freedom of movement, as well as access to justice, legal opportunities, accredited education, and other public services.
Children also face serious risks such as psychosocial distress, neglect, abuse, separation from caregivers, child marriage, child labor, and trafficking.
And conditions in the camps are far from ideal. Many refugee families live on the edge of dangerous hills, with little protection from heavy monsoon rains. The upcoming cyclone season could potentially be devastating for the refugee camps.
Children living in the refugee camps face increased risk of waterborne diseases such as acute watery diarrhea.
One year on from the start of this crisis, the situation of the Rohingya remains extremely perilous.
A persecuted people
More than 24,000 Rohingya Muslims have been killed by Myanmar's state forces, according to the Ontario International Development Agency (OIDA).
In its recent report, Forced Migration of Rohingya: The Untold Experience, the OIDA increased the estimated number of murdered Rohingya to 23,962 (±881) from an earlier Doctors Without Borders figure of 9,400.
More than 34,000 Rohingya were also thrown into fires, while over 114,000 others were beaten, the OIDA report said, adding that 17,718 (±780) Rohingya women and girls were raped by the Myanmar army and police. More than 115,000 Rohingya houses were burned and 113,000 others were vandalized, it added.
According to Amnesty International, more than 750,000 Rohingya refugees, mostly children and women, have fled Myanmar and crossed into Bangladesh after Myanmar forces launched a crackdown on the minority Muslim community.
The Rohingya, described by the UN as the world's most persecuted people, have faced heightened fears of attack since dozens were killed in communal violence in 2012.
The UN documented mass gang rapes, killings — including of infants and young children — brutal beatings, and disappearances committed by Myanmar state forces. In its report, UN investigators said such violations may have constituted crimes against humanity.