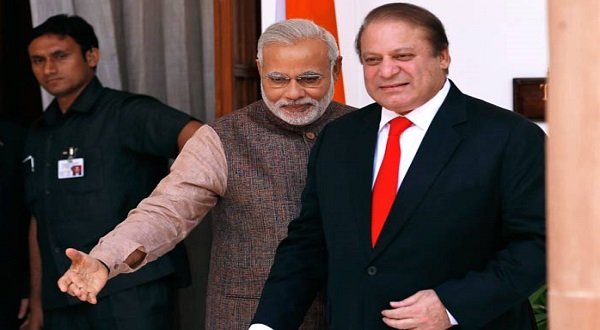 During a visit to the disputed Kashmir region Prime Minister Narendra Modi accused Pakistan of waging a terrorist war against India
By Mubasshir Mushtaq
NEW DELHI — Indian Prime Minister Narendra Modi has accused Pakistan of waging a "proxy war of terrorism" against India during a visit to the disputed Kashmir region.
In his first attack on India's regional rival since becoming prime minister in May, Modi on Tuesday said: "The neighboring country [of the Indian-controlled part of Kashmir] has lost the strength to fight a conventional war, but continues to engage in the proxy war of terrorism."
The two countries have fought three wars over the region since they gained independence.
Addressing Indian army and air force personnel in Leh district, he added: "Indian armed forces are suffering more casualties from terrorism than from war." He went on to stress his commitment to strengthening India's "humanitarian forces," a reference to the country's armed services.
Modi's remarks followed recent allegations of ceasefire violations by Pakistan and a rise in militant attacks on Indian military personnel in Kashmir.
Immediately after his election, Modi extended an olive branch to Pakistani Prime Minister Nawaz Sharif by inviting him and other South Asian leaders to attend the swearing-in ceremony of his Bharatiya Janata Party-led government.
Later on Tuesday, Modi flew to Kargil, a border town that was invaded in 1999 by armed militants allegedly supported by Pakistan, to inaugurate a hydroelectric project.
Recalling his visit to the town in 1999, Modi said: "Gunfire was heard in those days, where now we hear the sound of clapping."
Modi, 63, pointed out that the people of Kargil had supported Indian soldiers during the war.
The premier assured the crowd his government would take care of Kashmir's Hindu population, refugees who fled from western Pakistan, as well as the victims of terrorist violence in the valley.
India and Pakistan signed a ceasefire agreement in 2003 but the last two months have witnessed violations along the line of control.