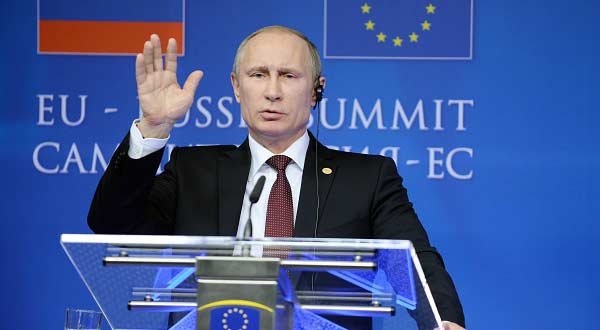 IN 90-MINUTE CALL TO PUTIN, US PRESIDENT VOICES 'DEEP CONCERNS' OVER VIOLATION OF UKRAINE'S SOVEREIGNTY
WASHINGTON, March 2 — US President Barack Obama expressed his "deep concern" over the "clear violation" of Ukranian sovereignty and territorial integrity during a 90-minute telephonic conversation with Russian President Vladimir Putin Saturday.
Obama "expressed his deep concern over Russia's clear violation of Ukrainian sovereignty and territorial integrity" and condemned "Russia's military intervention into Ukrainian territory", Xinhua quoted the White House as saying in a readout of the talks.
The US has also called for Russian forces to be withdrawn to bases in Crimea, an autonomous republic in Ukraine but a focal point now in the country's ongoing crisis.
"The United States calls on Russia to de-escalate tensions by withdrawing its forces back to bases in Crimea and to refrain from any interference elsewhere in Ukraine," the White House said.
The conversation came after Russia's parliament authorized Putin to use military forces to protect Russian interests in Ukraine earlier in the day.
Putin's spokesperson, however, said the president has not yet decided on the use of military forces in Ukraine despite getting the green light, and he would make decisions depending on how the situation evolves.
Obama, in a hastily arranged speech Friday, had warned that "there will be costs" for any military intervention in Ukraine.
Obama told Putin Saturday that his administration will suspend "upcoming participation" in preparatory meetings for the Group of Eight summit to be hosted by Russia in its Black Sea resort of Sochi.
"Going forward, Russia's continued violation of international law will lead to greater political and economic isolation," the White House said.
During their talks, Obama suggested sending international observers to Ukraine, under the auspices of the UN Security Council or the Organization for Security and Cooperation in Europe, to address Russia's concern about the treatment of ethnic Russian and minority populations in Ukraine.
The American leader urged "an immediate effort" to initiate a dialogue between Russia and the Ukrainian government, saying Washington "is prepared to participate".
Obama's national security team met Saturday to discuss potential policy options in response to events unfolding in Ukraine, but both Obama and Vice President Joseph Biden were absent.
Tensions flared up in Crimea following the dismissal of Ukraine's pro-Russian President Viktor Yanukovych a week ago by a parliament controlled by West-leaning opposition, who favour integration with the European Union instead of closer ties with Russia.–IANS