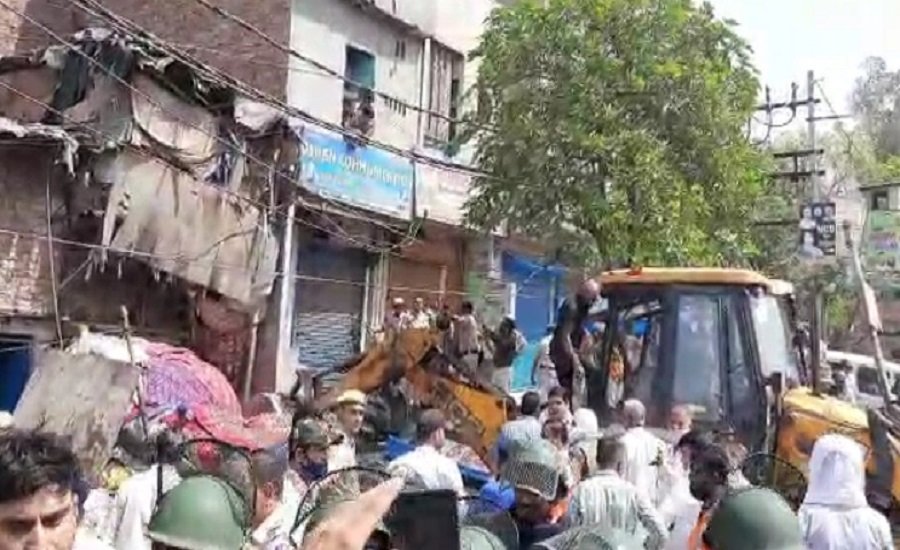 The demolition eventually stopped when the administration intervened on an appealed of local people to stay the demolition till the madrasa authorities return from vacation.
Waquar Hasan | Clarion India
NEW DLEHI – The bulldozer politics of Bharatiya Janata Party (BJP) continues to wreak havoc on Muslims. The latest victim of the destructive politics is a madarsa in Uttar Pradesh's Azamgarh, Jamia Ashrafiya.
The administration in Mubarakpur, on Monday, bulldozed 30-year-old building of the Jamia Ashrafiya's teacher colony at a time when the institution is closed due to Ramadan. According to the administration, the teacher colony has been built on the government's land, which the madarsa authorities vehemently denied.
A district official came along with a large number of security forces and razed the building with belongings of teachers and their families locked inside. The action has created ruckus in the area.
According to local news websites, Haji Sarfraz Ahmed, the vice-chancellor of the madrasa, was in Banaras when he came to know about the demolition. Apparently shocked on hearing about the unexpected development, Ahmed pleaded with the official to stay the demolition drive for a day. But the officials refused to oblige him. When a flat of the building was being knocked down, a madrasa official, Shamim Ahmed, who lived in it, was not given time to take out his belongings.
A large number of people gathered and raised objections to the move even as the bulldozer was on the job. It eventually stopped when the administration intervened on an appealed made by local people through a joint letter. The administration stayed the demolition till the madrasa authorities return from vacation.
Talking about the building, Ahmed said that the land in question was registered by the madrasa authorities 50 years ago. The building was constructed after leaving a 10 feet space for an adjoining path. There is a watercourse next to the path. The watercourse was occupied by land mafia. A case was filed in this regard in the local court. The matter is sub-juice.
"But the administration did not pay attention to the case and took action. The madrasa authorities were not even given notice about the demolition drive," he said.
Sharing the information related to the demolition, Dr. Mohammed Ayub, National President of the Peace Party, condemned the administration's action. Commenting on the incident, he remarked that ulama can keep away from politics, but politics will not keep them away from them.
जमिया अशर्फ़िया के ३० साल पुरानी इमारत पर क्यों चला बुल्डोज़र ? पीस पार्टी इसका भर्त्सना करती है।सभी हमारे तालीमी अदारे व उलेमा एकराम मुल्की सियासत छोड़ दी पर सियासत उन्हें नहीं छोड़ेगा। कास अगर उन्होंने सियासत की होती तो मुल्क में किसी पर जुल्म न होता। pic.twitter.com/zZwxumhvbT

— Dr. Mohammad Ayub (@ppayub) April 26, 2022
Muslim Students Organisation of India (MSO) also issued a statement condemning the demolition of the madrasa building.
Maulan Muddassir Ashrafi , National President of MSO, said the bulldozer politics is killing justice in Uttar Pradesh. It has reached to madrasas now.
He pointed out that the administration demolished the building of a madrasa where students from other countries also study. It was razed without serving any notice when the matter was sub-judice.
"This is unacceptable," he said.