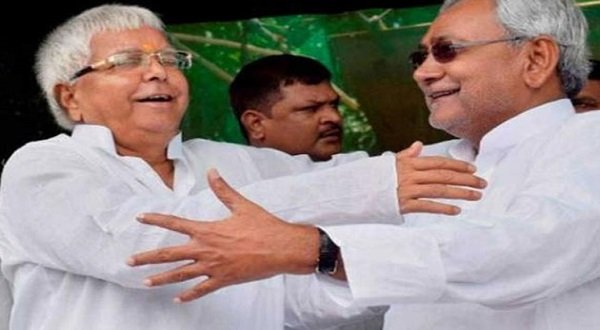 POLITICAL CIRCUS
By choosing to support Ramnath Kovind, the BJP's choice for the President's post instead of the opposition candidate, Meira Kumar, Nitish Kumar has raised doubts about his loyalty to the secular cause and is suspected of trying to play both sides. Perhaps realizing his mistake, he has now extended support to the opposition's vice-presidential nominee, Gopal Krishna Gandhi. But the damage has been done to his position in the anti-BJP camp
AMULYA GANGULI   
Nitish Kumar is in a bind. He knows that the mahagathbandhan or grand alliance in Bihar is fraying at the edges, but he doesn't know which way to turn.
If he responds to the Bharatiya Janata Party's (BJP) overtures to join the saffron brigade either formally or informally with the BJP propping up his government with outside support, he will be accused of crass opportunism.
He also knows that in the BJP's company, he will have to play second fiddle to the Narendra Modi-Amit Shah duo and forget about a major role in national affairs. For all practical purposes, he will have to remain confined to Bihar for the rest of his career.
However, if he remains with Lalu Prasad Yadav and Co, he will be staring at a probable defeat in the next election and the loss of his reputation as a good governance man.
His predicament is due to a miscalculation of Modi's appeal for the average voter. When Nitish Kumar realized it after his party's poor performance in 2014, he quit the Chief Minister's post.
Since then, he has managed to claw his way back into power, but he has never been happy with his companions on that uphill trek, especially after Laloo Prasad's Rashtriya Janata Dal (RJD) pipped him at the post by becoming the first party in the Bihar alliance.
Much of Nitish Kumar's problems stem from his relatively weak political position vis-a-vis the RJD, the party of the dominant Yadavs, whereas Nitish Kumar's own base of support comprises the Kurmis, who make up six per cent of Bihar's population. Yadavs, on the other hand, constitute 11 per cent, the largest group among the backward castes.
Because of Nitish Kumar's vulnerability on the caste front, he has tried to shore up his position by wooing the rural and lower middle class women via his prohibition policy. But that has not been enough to make him feel secure.
However, the blow to his position is not the result of his unstable base. It is the fallout of the revival of Lalu Prasad's familiar image of being less than honest in his transactions in public life.
To make matters worse, his son, Tejashwi, who is the Deputy Chief Minister (and is seen by his mother, Rabri Devi, as a future Chief Minister), has been charged with sleaze by the Central Bureau of Investigation (CBI).
Lalu Prasad has predictably accused the CBI of targeting him at the BJP's behest. But Nitish Kumar has refrained from standing by his cabinet colleague and alliance partner, wanting him to prove his innocence.
Nitish Kumar's stand might have been applauded on the grounds of rectitude if he had demonstrated that he remained firmly in the anti-BJP camp.
But by choosing to support Ramnath Kovind, the BJP's choice for the President's post instead of the opposition candidate, Bihar ki beti (Bihar's daughter) Meira Kumar, on the rather unconvincing plea that she is bound to lose, Nitish Kumar has raised doubts about his loyalty to the "secular" cause and is suspected of trying to play both sides.
Perhaps realizing his mistake, he has now extended support to the opposition's vice-presidential nominee, Gopal Krishna Gandhi. But the damage has been done to his position in the anti-BJP camp.
All of this will be music to the BJP's ears because the Bihar Chief Minister is virtually the only one among the saffron brigade's opponents who does not carry a dynastic baggage and is known for his clean image and administrative ability.
These qualities make him stand out from the Congress — the party of one-and-a-half leaders — or Samajwadi Party, where father and son are at loggerheads, or Bahujan Samaj Party, whose leader is losing ground to the emerging Young Turks among the Dalits, or Trinamool Congress which is struggling to keep West Bengal in one piece, or Biju Janata Dal whose leader rarely utters a word in public.
True, Modi runs a one-man show and appears unable to control the fringe elements in his party. But his advantage is that he has succeeded in retaining a large measure of popular approval because, as Nobel laureate Amartya Sen has said (with a touch of surprise and seeming disapproval), that "many people with evidently liberal instincts… continue supporting the government for one reason or another such as expected benefits from Narendra Modi's economic reforms" even as the country goes down the "ladder of intolerance and unfreedom".
The problem with Nitish Kumar, the Congress and others in the anti-BJP camp is that their commitment to reforms is open to question as they seem to continue to adhere to the Soviet era concept of a controlled economy, which no longer inspires the voters, especially the younger generation.
Their only chance of making an impact on the electoral scene is by coming together so that their respective vote shares add up to a substantial percentage.
But a combination of such a nature, which is based almost solely on caste calculations, is inherently unstable since it will be unrealistic to expect, say, the Yadavs and Dalits to sup together. For the present, therefore, Nitish Kumar appears to be on a losing wicket.
---
Amulya Ganguli is an Indian journalist and political analyst.